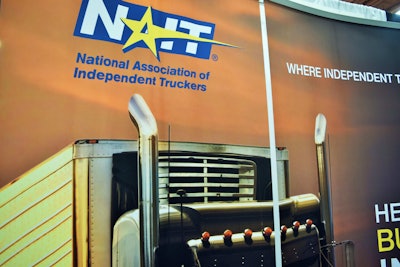 Florida-based insurance broker Marc Ballard spent the Great American Trucking Show in Dallas last week at the booth of the National Association of Independent Truckers, talking about the NAIT partner Truckers Insurance Exchange, entering its second year as an avenue specifically for drivers and owner-operators toward purchasing insurance on the Affordable Care Act's health insurance exchanges.
According to morning September 3 results of recent and ongoing Overdrive polling, the exchanges have been a relatively infrequent path to health insurance among readers in the first two years of existence: 13 percent of operators report having bought insurance there, with the majority of respondents (55 percent) reporting access to insurance through another source. Utilization of spouses' plans has been a common route for many independents, employer plans for company drivers. This most recent poll so far reflects past Overdrive polls with a third of respondents remaining uncovered by any health insurance plan.
At a GATS briefing, Ballard noted the TIE's new "marketplace" website, which streamlines access for operators who "need to have a resource to help you navigate" through what can be a complex determination of insurance choices on the exchanges, he says. "Whether they decide to enroll or not, it's good to have somebody" to run a variety of scenarios depending on plan selection and qualification for a subsidy to reduce premiums.
Ballard adds, "at least then you know you've made an informed decision."
Through the TIE marketplace, NAIT members as well as nonmembers can register with little more than a name and email address to access representatives with exchange partner ConnectedHealth to run through the scenarios and help make a decision. Those eligible for assistance include those who wish to change plans purchased on the exchanges during past open enrollment periods as well as new shoppers.
The 2015-'16 open enrollment for exchange health insurance plans begins November 1 and runs through January 31. To ensure coverage or plan changes to begin January 1, enrollment must be complete by Dec. 15. (Those changing plans, Ballard notes, can do so both after Dec. 15 and before, even if they've set their plans to autorenew — such situated insurance buyers who do switch will stay on their current plan for one month in 2016 before the change takes effect.)
Penalties for not carrying insurance will rise again for the 2016 tax year to 2.5 percent of modified adjusted gross income (income after expenses and some deductions). In 2014, the penalty was assessed at much lower levels (1 percent). The average penalty for clients of owner-operator business services firm ATBS who paid one was $255. Extrapolating from that, penalties assessed in 2017 after the 2016 tax year might reach close to $800 on average. Given the penalty is assessed as a share of family income, Ballard says, it "could sting a little bit if you have a spouse working as well."
Ballard goes on to cite research he's done that suggests up to 40 percent of owner-operators, meanwhile, may be "eligible for some level of subsidy" to reduce costs of insurance purchased on the exchanges. Many, he adds, don't realize that.
What's your health-insurance situation today? Our poll probing the subject follows.