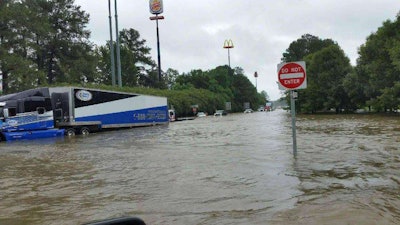 Louisiana is under a state of emergency due to historic flooding https://t.co/KxDxMWIru0 pic.twitter.com/OAzvkqENft

— AccuWeather.com (@breakingweather) August 12, 2016
Louisiana Gov. John Bel Edwards declared a state of emergency for the state Aug. 12 in light of the historic flooding around Baton Rouge and across the southern part of the state. Per federal law, certain federal safety regulations have been temporarily suspended for some truck drivers through the duration of the declaration.
The Federal Motor Carrier Safety Administration says such a declaration by a state "trigger[s] the temporary suspension of certain federal safety regulations, including hours of service, for motor carriers and drivers engaged in specific aspects of the emergency relief effort."
FMCSA says drivers responding to provide "direct assistance" to an emergency, as defined here, are exempt from applicable regulations in all states on their route to the emergency, even through states that may not be involved in the emergency or stated in the declaration of emergency. The agency adds the exemptions only apply to regulations in 49 CFR Parts 390-399 and do not "exempt drivers/carriers from the requirements relating to CDL, drug/alcohol, hazardous materials, size and weight or state/federal registration and tax requirements."
Drivers and carriers should coordinate with state officials before providing assistance, according to FMCSA. The agency also says truckers should use good judgement when operating under the temporary exemptions.
The state of emergency is in effect until Sept. 10. More on the flooding in Louisiana can be seen here.
TRAVEL ALERT: Louisiana declared a state of emergency due severe flooding throughout southern portions of the state: https://t.co/K6pzXX234q

— FMCSA (@FMCSA) August 16, 2016