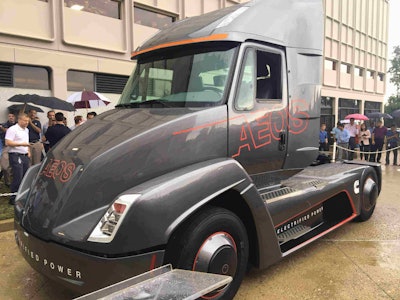 Cummins on Tuesday became the latest company to introduce an all-electric tractor, unveiling — just weeks ahead of an expected electric truck introduction from electric vehicle pioneer Tesla — a Class 7 concept tractor.
The Aeos Electric Commercial Vehicle Demonstrator, designed and built in collaboration with Roush, features a state-of-the art battery pack that is lighter and more dense, allowing it to hold a longer charge for improved range and faster charging.
"The charging is a simple plug-in which can return the [140 kilowatt hour battery pack] to sufficient charge in about an hour," says Cummins' Electrification Business Development Executive Director Julie Furber, who adds she believes charging time can be reduced to as little as 20 minutes by the year 2020. The tractor also re-collects free energy from a regenerative brake system and by driving. To conserve energy, the powertrain movement stops anytime the vehicle stops and the truck is also equipped to import energy from solar panels mounted on a trailer roof.
Aeos – named after one of four winged horses who drive the chariot of the Sun God from Greek mythology – gets the diesel equivalent of more than 30 miles per gallon with a range of 100 miles on a single charge. That can be extended extended to 300 miles with an additional battery pack.
A technology demonstrator for vocational applications, urban delivery operations, port drayage and terminal container handling, Furber says the truck will soon be placed in the hands of partner customers for field trials.
"It won't just be standing around looking good," she says. Cummins also plans to use the truck as a test vehicle for the electrification of components.