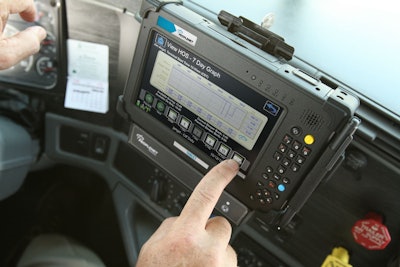 As more and more carriers adopt electronic logging devices ahead of the December 2017 effective date of the U.S. DOT's ELD mandate, brokers and other third-party logistics providers see an opportunity to use hours-of-service data gleaned from the devices to find available trucks and drivers.
Platforms that connect the two — hours-of-service data and brokers — are on the rise, creating the opportunity for brokers to capitalize on ELD data.
For instance, Overdrive's Truckers Tools later this year will add a new freight matching feature dubbed Smart Capacity, and it will give brokers the ability to see trucks with available hours-of-service data and help them better match freight with capacity.
Owner-operator-heavy carriers, such as the Medina, Texas-based Barton Logistics, look forward to being able to find drivers with available hours based on ELD data.
"The genius in the Trucker Tools concept is that once they know what hours a driver has available to run legally, they will be able to present to market makers and [third-party logistics providers] only the power units that are legal to run the load we're posting," says Barton's VP of Operations, Criss Wilson. "This in turn negates the risk of driver coercion for the market makers' load planner. The opportunity for driver coercion occurs when a delivery appointment is not met by a driver who originally committed to it; or, at times when the delivery appointment was poorly communicated by the load planner to the driver."
To track loads, the broker pays a flat fee depending on the volume and third party integration. A broker with high load volumes would pay $1.05 per load, for example, with no limit on the number of days or stops it takes to complete the load.
When the load assignment is made, the driver receives a text message with a link to start the tracking. If the driver does not already have Trucker Tools on his phone, clicking the link opens a window to download the app.
By default, the tracking starts 24 hours prior to the pickup appointment. This gives brokers information from ETA alerts to see that the driver is committed to the load and is on schedule.
All locations for the load — pickup, stops and delivery — are geofenced to automatically record and alert brokers of arrival and departure events.
Overdrive sister site CCJ explored this topic more in-depth at this link.