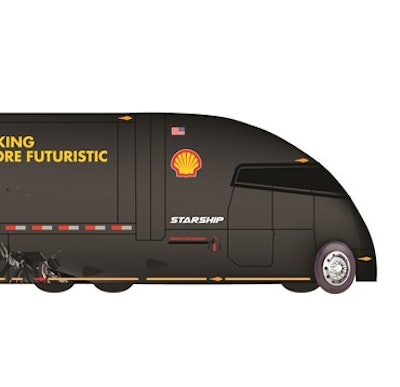 The futuristic and highly aerodynamic 'StarShip' concept truck in development by Shell Lubricants and AirFlow Truck Company could be completed as early as next spring, Shell marketing rep Kate Faucher last week.
Shell announced the venture in March 2015, saying it was backing concept truck builder Bob Sliwa and his Airflow Truck Company. Sliwa in 2009 performed a cross-country fuel economy test with his highly conceptual Bullet Truck, achieving 13.4 mpg in a Connecticut to California trip with a gross vehicle weight of 65,000 pounds.
The Sliwa-Shell duo hope to beat that number with the StarShip, Faucher says, and the company is looking into what Guinness World Records could be broken with such a fuel economy showing.
Faucher says the hyper-fuel-efficient concept tractor-trailer should be introduced by the second quarter of next year, and the companies plan to perform their coast-to-coast test along I-10 shortly thereafter, running from California to the East Coast.
Photos and details on the truck are still scant, given the nature of the truck build. But Faucher says the StarShip will show off technologies that "are on the bleeding edge of what's possible" with fuel economy gains.