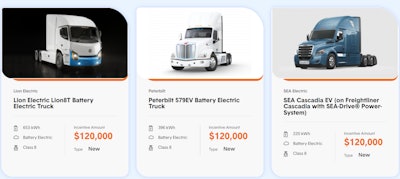 Cutting through all the hype around electrification of heavy-duty trucks' powertrains, a reality check of sorts came recently with results of a survey Overdrive conducted around truck purchasing and leasing in both new and used markets. The survey ended with a question aimed at gauging owner-operators' interest in burgeoning development going on around electric drive. Asked to characterize their interest, roughly 7 in 10 of the nearly 500 survey respondents indicated no interest whatsoever.
What's more, just a single percent had talked with manufacturers and/or their representatives about current/future availability of electric powertrains.
There's a reason for that, of course – the technology transition under way simply has not become viable in any significant way for the longer-run requirements of the kinds of operations where most Overdrive readers are in business. At once, the pace of tech development is certainly accelerating.
Niki Okuk is currently a deputy director at the Calstart nonprofit organization, charged with administering a couple of the state of California's big incentive programs for truck owners looking to upgrade the fleet to cleaner technologies. Up to two years ago, Okuk operated a small fleet of four trucks, two pulling containers out of the Port of Long Beach in addition to two local box trucks. The high cost of real estate drove the company out of business, essentially, Okuk said, and since, she's become a valuable asset to Calstart with a goal of bringing smaller and more local fleets into those state incentive programs too often only utilized by larger companies.
When she came to Calstart, she said, "the thing that I really noticed quickly was that the companies that take the most advantage of these incentive programs are those who have grant writers on staff and who can follow the convoluted path" toward grant money.
And regulation, she feels, is coming, with so-called "zero-emissions" mandates in talks at the California Air Resources Board, previously reported here in Overdrive. When it comes to regs as a small fleet, Okuk said, "so often we wait until the regulation is requiring" something before ever bothering to get necessary information to implement. "With electric, you really need a nine-month lead time in planning" before any switch.
[Related: Owners need to engage with zero-emisssions targets out West]
Nonetheless, as her organization more broadly clearly recognizes (and which is not lost on Overdrive readers, either), "long-haul is not there yet" in terms of readiness for implementation, Okuk said.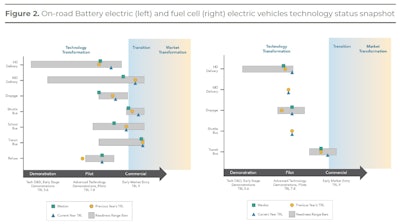 The dynamics illustrated for heavy-duty delivery trucks in the charts above don't mean that battery- and fuel cell-electric technologies aren't in fact part of the Class 8 mix today, though. Just this week, Kenworth sent out a press release about its "Driving Toward Zero Emissions" program and new grant-assistance efforts its staff is making for customers looking to potentially invest. Part of its portfolio of electric-powered rigs is the battery-electric T680E, of course, a Class 8 (a fuel cell-electric version is likewise in the works).
Other legacy truck makers are in similar positions. Kenworth's new customer-assistance initiative tracks more than 75 federal, state, county and municipal grant and incentive programs in the U.S. and Canada – each with varying requirements, eligibility, funding awards and timelines. A big part of any move to electric vehicles will be EV charging equipment and infrastructure to support it, as both Kenworth and Okuk herself are fully aware.
With Okuk's reference to long lead times for implementation above, she explicitly noted that small fleet owners' "traditional way of shopping for trucks is to go first to the dealer," or the truck maker's reps in the field, in other words. But with battery-electric truck shopping for shorter-haul operations that apply today, "when I'm talking to fleets the first thing I say is 'call your utility – they'll be able to tell you if they have incentives or special charging rates, and whether you might have enough power [at your location] already without big construction upgrades.'"
Okuk recommended engaging on what's available early, particularly for owners based or operating in California given the push to electric-power technologies state regulators are clearly interested in. The website of California's Hybrid and Zero-Emissions Truck and Bus Voucher Incentive Project shows what's available now. You can follow this link directly to the "tractor" heavy-duty truck category, where vouchers of $120,000 are available to those who qualify on each model – Peterbilt and Kenworth, Freightliner and Volvo are all represented there.
Okuk notes the HVIP incentive program as preferable for most California-based small fleet owners with whom she's talked about the programs Calstart administers. Preferable over, that is, the old though still running "Carl Moyer" program, a kind of "scrap and replace" initiative, she said. Overdrive's covered aspects of the program before.
[Related: CARB dismantled my truck, now it's running around Mexico]
In that program, "if you're able to retire an older vehicle, you can get up to 80% of an electric vehicle covered," said Okuk. At once, "lots of trucking companies have a problem with that. They say, 'We're not going to retire a truck that we know.'"
Through HVIP credits, she said, you could get the cost of a road-ready drayage-appropriate Class 8 tractor down to about $150K brand-new, with what amounts to close to "half of your up-front cost" covered by the incentive program's voucher. There's also a fairly new state program (announced this spring) called "EnergIIZe" dedicated to putting forward funding assistance for charging capability.
As evidenced by the Kenworth example above, Okuk noted "a lot of the OEMs have grant-writing staff on hand," she said. "If a small fleet comes in and says, 'We're looking at two delivery trucks in Fresno.' ... they'll help apply for the grants and work with the dealers and vendors."
And costs more broadly speaking? She looks at current technology under this rule of thumb: "You can count on the electric vehicle to cost you twice as much," she said, as a comparable diesel-power piece of equipment. The "big difference is going to be the fuel savings." If owners can eliminate some of the up-front cost with incentives, she said, savings could accrue quickly. If you're paying $2,000 on diesel in any given time period, at today's rates she estimated a $500 outlay for your equivalent charging power in the same operation. Whatever the comparable metrics are when it comes time for longer-run operations to take advantage of new techs, do the math, and the research, to determine whether any move makes financial sense, but of course.
It's never too early to keep your ear the ground, at the very least, and that cost-benefit time may come sooner than you think, if Okuk's right.
The HVIP program hosts this "total cost of ownership" calculator at its website where any truck owner can plug his/her numbers in for rough cost-benefit estimates.