In a previous article about trucking social media stars shaking it on TikTok, we asked Overdrive readers a simple question that sought to push understanding of the trucking community outside of the stereotypical box: Can't a driver dance?
Today, another one: "Can't a driver be an environmentalist?"
While transportation, including passenger and lighter duty vehicles, accounts for a whopping 29% of greenhouse gas emissions in the U.S., and the trucking sector frequently comes under fire from state regulators (well, mostly California) looking to tamp down emissions, owner-operators like other Americans have plenty good reasons to consider the environment.
You do plenty in the way of what might be called environmentally sustainable, or at least conscious, trucking. All the fuel-saving pieces of the puzzle in your arsenal contribute, from idle reduction with auxiliary power units (many of which can run fully electric) to installing aero devices like side skirts on trailers, simply closing the gap between tractor and trailer as tight as possible, choosing greener brake pads, and so much more.
Biodiesel blends and lower-carbon fuels, generally, are available and find their way into your tanks, and plenty of you are fully invested in newer diesel engines with aftertreatment systems and broadly increasing fuel efficiency, as noted.
Longtime regular readers may recall the story of owner-operator Chad Fowler, among others who've adopted solar panels in a quest for (mostly) maintenance-free auxiliary power when the truck's not rolling. As Overdrive's Todd Dills wrote about Fowler at the time of that story, the owner's motivation for his custom solar-panel install wasn't "all about the wear-and-tear and fuel savings of not idling, instilled in Fowler from an early age by his trucking father; there's a certain amount of environmentalism there in the quest."
[Related: An owner-operator-designed solar auxiliary power system]
Yet the limitations are clear for the carbon-heavy OTR trucking trade. With government investing in electric vehicle infrastructure and pushing alternative powertrains as an escape from high fuel prices, is it feasible for an owner-op to run on anything besides diesel today? According to the North American Council for Freight Efficiency and a dealer of Volvo and Mack electric trucks, there's a resoundingly clear answer to that question: No.
No doubt that figures into just why 68% of owner-operator respondents to Overdrive's recent truck-purchasing, leasing and maintenance survey expressed no interest whatsoever in electric vehicles.
A realistic EV outlook for owner-operators
The White House plans to spend more than $1.4 billion on low and no carbon buses for schools and cities. Amazon hopes to get to net carbon-zero by 2040 with fleets of electric delivery vans, among other measures. Cummins launched its fuel-agnostic engine platform in February, but the company's CEO himself admits he has no idea how the industry gets to truly zero carbon. The Securities and Exchange Commission is pushing publicly traded businesses to disclose greenhouse gas emissions data, something that NACFE President Mike Roeth said will spur big fleets to buy alternative powertrain trucks.
But for the independent owner-operator, no good option exists in 2022.
When I asked Roeth what he'd tell an environmentally-conscious OTR owner-operator looking to kickstart a green freight business with a truck powered by anything other than diesel, he said, "Good for you, but there's just nothing out there right now.
"Definitely for heavy tractor owner-operators.... For the most part, these trucks that are available today or over the next few years aren't going to be able to do more than 200, maybe 300 miles. If they can't get you the miles to get paid, and cost too much, it's not an option." .
But, surprisingly, an owner-operator actually could place an order for and receive an electric truck this year. In a year of morbidly slow tractor builds and delayed delivery, this may sound like a godsend, but the reality of electric trucking starts to set in pretty quick.
Take, for example, Volvo's VNR Electric 6x4 tractor, an impressive rig that boasts 455 hp and 4,051 lb.-ft. peak output torque, a range of up to 275 miles, and the ability to charge up to 80% in 60 to 90 minutes. Volvo pitches the truck as ideal for "local distribution and regional transportation with planned routes and frequent stops. Including food and beverage and other short driving cycle services."
OTR operators well know that 275 miles falls far short of the miles a diesel can achieve in a day of driving within hours of service regulations. Realistically, though, an average operator doesn't max out hours day-in day-out -- one calculation based on a particular subset of operators found an average of about 6.5 hours driven of the 11 allowable daily hours. A 275-mile range thus might just work for some applications, especially if you can manage to charge the truck during a break.
"Today with Volvo or Mack you can order an EV and get it this year," said Kim Mesfin, president of Affinity Truck Center in California's Central Valley. "They're still coming down the line and we even have some on the ground now."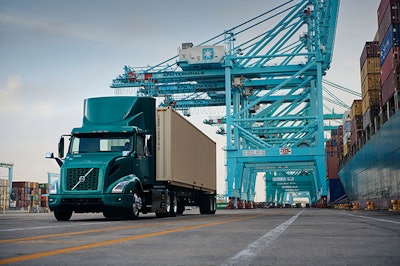 But as excellent as it might feel to snag a piece of brand-new equipment from a top OEM during the great equipment shortage of 2022, the fun would probably end there, according to Mesfin, who said she doesn't see electric vehicles as a real opportunity for OTR haulers.
"The range isn't enough right now, so it wouldn't be worth an owner-operator's time," she said. Mesfin said she mostly only sells EVs to larger fleets in California, and while she didn't have an exact price in mind for a Volvo VNR Electric, "a customer would not buy it without incentives" -- in California particularly those come in the form of grants. "It's not comparable to today's diesel trucks, and also the customer would need to chase government incentives on building the charging infrastructure, which would cost equal to or more than the truck itself."
Fleets with a more local or regional focus are most likely to benefit from all the government incentive dollars and good press from switching over to electric vehicles. Mesfin's more high-profile EV sales usually result in press releases and local fanfare, she said.
[Related: Don't let the push toward electric powertrains turn into a 'green monopoly']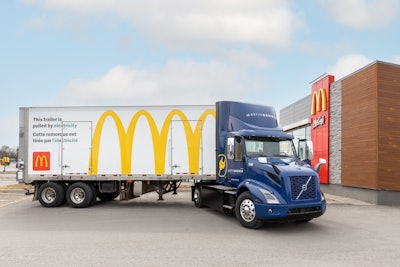 Bill Aboudi, a small fleet owner and president of the Oakland Port Services Corporation, said that he's looked into electric tractors and been quoted a price of around $430,000 with about $120,000 in vouchers knocked off the sticker price.
"We love the technology and we're waiting for it, but it's our livelihood and we can't gamble with it," said Aboudi about the price of electric trucks. "I can't afford $430,000 for a truck. The voucher is about $120,000, but the CARB grants are based on mileage, so if your range in an EV is 160 miles, you're not going to put up that many miles."
For an owner-operator whose bread and butter is snagging high-miles loads from wherever they're based across the country, electric vehicles' short range and the nation's sparse charging infrastructure makes the normal course of business impossible. If independent drivers in California, of all places, can't make zero-carbon trucking work for them, it does not bode well for the rest of the country.
'Where there's a will, there's a way'
Electric vehicles aren't the only current option when it comes to alternative powertrains, but an owner's business might necessarily be a specialty act for any to make sense.
Roeth pointed to natural gas-powered vehicles as an alternative with some pickup in trucking. At once, he noted natural gas is mainly a game for fleets, and that it's "only practical where there's a low carbon fuel standard" in states like California and Oregon. Diesel prices crossing $5 and (in some places) $6 per gallon helps push the math toward natural gas-powered rigs, but again operators run into the problem of needing to fund fueling infrastructure. Though compressed-natural-gas fueling infrastructure is certainly on the rise in certain areas, it's hardly as prevalent as diesel.
"If a one truck owner really wanted to look hard for low-mileage, high-rate, maybe pay-by-the-hour and not by the mile, like drayage or some other specialty runs, that could work," said Roeth. "I recently had a really interesting conversation about logging. There's predictable routes and lots of time loading and unloading. It's kind of like beverage, and beverage is ripe for electrification. That's one of the things I love about trucking. I've been in this industry for 35 years and there's always a customer for any technology that comes along."
Indeed, according to Mesfin, beverage carriers have done well with electric vehicles. A recent NACFE report found that among delivery vans/step vans, 100% of that industry appears electrifiable today.
But the individual driver should not despair, said Roeth. "Where there's a will, there's a way. For the right shipper, or the right warehouse owner with the right routes, someone can find a situation, whether it's short-term daycab or longer haul, there's definitely some opportunity."
Roeth pointed to terminal tractors, which he said don't rack up too many miles or even drive fast. But they're hard on aftertreatment systems, making electric vehicles a potentially attractive alternatives.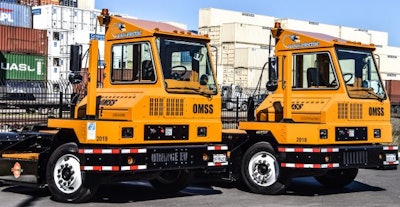 Small fleet owner Aboudi, working predominantly in port drayage, couldn't be any happier running two Orange EV yard tractors at his facility at the Oakland port.
"You're stupid if you don't buy an electric yard tractor. If you buy diesel, you're screwed," he said, referencing the smoke, maintenance, and aftertreatment issues with diesel yard hustlers. "I have two electric tractors and my guys love to jump in them. We don't even have to tell people to move trailers anymore. The Orange EV has onboard charging and the power infrastructure we need is not that big a deal. We only have one charger plugged for both of my vehicles. When they're not running they don't use any power."
Aboudi said that his neighbors have picked up EVs after seeing his example, and that the industry is hungry for the smooth and clean operation of EVs. But even stepping a little bit outside of the yard into drayage work presents real challenges due to high price points.
"Typically, if I'm in port drayage, I'm just sitting in line, so I buy the cheapest truck that I can that's compliant. Typically I'd spend $30,000 to $50,000 on a hand-me-down truck. See where the cost difference is so huge? It's great that the president wants everyone to go to EVs, but I'd ask him: 'If it was your livelihood, would you?' That's like asking me to buy a Porsche when I only need a Toyota Corolla."
So even though Aboudi sits firmly in the camp of the approximate third of owner-operators with real interest in electric vehicles, that interest remains mostly abstract. The price point dangles far out of reach. This, however, shouldn't be misinterpreted as any lack of enthusiasm for the environmental cause.
"I breath the same air everyone else breaths," he said. "I have an organic garden with 47 fruit trees and I share them with the bugs. I didn't build the truck. I didn't set the emissions rules. I'm just trying to make a living. That's why most people will take the attitude of 'I haven't seen the trucks. Why you selling me a pipe dream?' I have reality with diesel trucks, it's a proven concept, I can feed my family with it."
Roeth did seem to think that people like Aboudi, setting use-case examples with at least some electric equipment, would go down as something of a hero in future.
"The president of the U.S is talking about it," Roeth said. "Money doesn't always follow egos, and there's definitely egos surrounding a lot of this stuff, but there's all kinds of marketing, promotional stories that can be taken advantage of here. If an owner-operator can find a way to operate three electric trucks in a year, they'll have beaten Elon Musk to the punch."
(If you're reading and this describes you, reach out: AlexLockie@randallreilly.com.)
[Related: Cutting through the heavy-duty e-trucks hype]