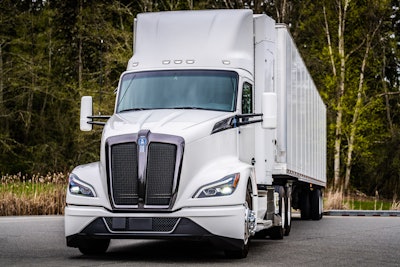 Kenworth
Following a successful pilot with Toyota last year, Kenworth announced Tuesday that its zero-emission T680 hydrogen fuel cell tractor will be entering production and rolling out with three times the range of its all-electric T680E.
Powered by Toyota's hydrogen fuel cell technology, the T680 FCEV has a range of up to 450 miles. Kenworth's all-electric T680E is rated up to 150 miles of range.
"The T680 FCEV was engineered to offer one of the longest driving ranges of any zero emissions trucks on the market," said Kevin Baney, Kenworth general manager and Paccar vice president. "With quick refueling, this broadens our zero-emission product offering to include round-the-clock operations in regional haul and demonstrates FCEV potential for long-haul."
Last year, Kenworth and Toyota completed a joint pilot program at the Port of Los Angeles, where Kenworth customers operated 10 prototype T680 FCEVs in a real-world setting. The program's success encouraged both OEMs to ready the T680 FCEV for production.
The truck is equipped with Toyota's 310kW Dual Motor Assembly, capable of providing 415 horsepower continuously at a maximum payload of 82,000 lbs. (GCWR), and the Toyota Gen 2 Dual Fuel Cell Module. Initial deliveries of the T680 FCEV will take place late next year with full production planned for 2025.
"Toyota is excited to take the next step in this joint effort with Kenworth to provide a zero-emission powertrain kit to its customers," said Matt Stich, general manager Fuel Cell Solutions, Toyota Motor North America. "This proven hydrogen-powered fuel cell electric technology will allow commercial customers to help reduce carbon and operate more sustainably."
Operating a T680 FCEV outside of California, however, will be a challenge. According to the Department of Energy, all 57 hydrogen stations in the U.S. are located in the Golden State and not all of those stations are designed to fill up a Class 8 truck.
The California Energy Commission reports that only six heavy-duty hydrogen stations are currently available in the state: one in Oakland and the rest in Southern California not far from the nation's busiest ports. Three more heavy-duty stations are planned there while another is in the works for Oakland.
During a media event last year, Kenworth Chief Engineer Joe Adams told reporters that "hundreds of millions of dollars for green hydrogen" from the Inflation Reduction Act should help Kenworth and other hydrogen players "roll out and develop the infrastructure" needed for hydrogen-fueled vehicles.
The T680 FCEV will be eligible for a $240,000 grant from California's Hybrid and Zero-Emission Truck and Bus Voucher Incentive Project (HVIP). Electric trucks can qualify for a $120,000 HVIP grant.
Peterbilt joins the crowd
Peterbilt Tuesday announced it too plans hydrogen-fuel-cell options for its heavy-duty truck lineup. Peterbilt General Manager Jason Skoog said Peterbilt is leveraging the lessons learned by its parent company on earlier FCEV projects to broaden its zero emissions powertrain solutions. "Hydrogen fuel cell technology is a key component of a portfolio of Peterbilt zero emissions vehicles that also includes our advanced battery-electric models," he added. "Our partnership with Toyota will deliver the most advanced fuel cell powertrain in the industry."
The Peterbilt FCEV zero emissions vehicles will be available in 2025 and will target long-haul customers.
"Hydrogen fuel cells are a great solution for longer-range applications. The fuel cell is designed to power the vehicle and recharge the batteries in the propulsion system, providing more range without additional battery weight," said Scott Newhouse, Peterbilt chief engineer. "We are designing these advanced vehicles for optimal performance in longer-haul applications."
Three other Class 8 fuel cell trucks are already on the market, according to the California Air Resources Board: Hyzon's FCEV8-100 and FCEV8-200 and the Hyundai XCIENT.