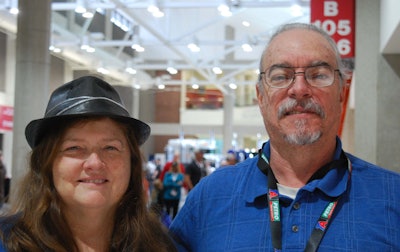 Several weeks back, when they booked a load going from one Amazon warehouse in Las Vegas to another in Edwardsville, Ill., husband-wife team owner-operators Gary and Ondena Caraway had some indications all would not be well for the couple's van trailer on the other end.
Problem is, they missed those fine-print indications on the load listing that 12-48 hours would be required for unload. When that 48 hours turned into a week…. Well, let's just say they were not happy indeed.
The Caraways' story, including how it all came to fruition with their leasing carrier, is this week's Overdrive Radio edition:
Podcast: Play in new window | Download
The biggest point Gary Caraway wanted to make is he's 100 percent sure that this situation wasn't a one-off mishap that fell solely on their operation. The truck stop nearest the Edwardsville, Ill., facility that held their owned trailer a week and a day without unloading it was full of bobtails the several days they were there. Conversation after conversation revealed numerous drivers and owner-operators in similar predicaments, having shown up to unload at the same location.
"What is one to do when someone or a big business" essentially "hijacks your equipment like this?" he asks. In Caraway's case, it helped that he was leased to a larger carrier (Mercer) and wasn't the only situated owner-operator in a similar situation there. He ultimately was compensated to tune of a couple thousand for the week's use of the trailer, but the former independent with authority emphasizes he's sure others are not fairing so well who find themselves dealing with the online retailer.
Lesson learned, at least, with respect to the fine print on any load/rate confirmation, particularly when it goes for any load in which Amazon is involved, Caraway says. And it all reminded me — and regular Channel 19 readers may recall as well — of a bit of wisdom offered by way of a reader comment about Amazon's load/unload efficiency, or lack thereof, as it were, way back in 2015 when the online-shopping behemoth announced plans to roll out a freight-matching app.
As the reader put it: "Amazon needs to learn how to load or unload a truck in less than six hours (and that is giving a lot of grace) before they think about an app. When I go to book a load Amazon is on the top of my 'Do Not Haul' list. Just above Wal-Mart and food warehouses."