Peterbilt announces two models
Peterbilt's new Model 348 is designed for Class 7-8 applications that require rugged durability and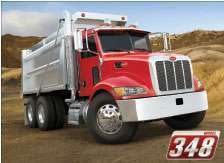 a wide range of options. The company has also introduced the medium-duty Model 337, which is suited for pickup-and-delivery, beverage and food service vocations. It will replace the Model 335.
The Model 348, replacing the Model 340, has a GVW beginning at 35,000 lbs. and optional capacity ratings to suit most specialty vocations, including those for construction, petroleum refuse and utility. It is available in tractor or straight truck configurations and offers vocational options such as FEPTO, REPTO and application-specific transmissions, including a hybrid configuration designed for utility service. In the hybrid configuration, the Paccar PX-6 engine offers 280 hp, while the Paccar PX-8 engine offers 240-380 hp and provides 1,050 lb.-ft. of torque for heavier loads.
The 348 has a lightweight all-aluminum cab. A lowered and slanted side window beltline increases the view outside the passenger side window, and a lowered dash sightline contributes to a 17 percent improvement in side window visibility. Removable dash panels provide access to electrical and HVAC components. The 348 is available exclusively with air brakes for heavy-duty configurations and a wide range of suspension and vocational options in both single- and tandem-axle configurations.
PETERBILT, www.peterbilt.com
New Coronado versions introduced
Freightliner has introduced the new Coronado SD, designed for severe duty applications, and an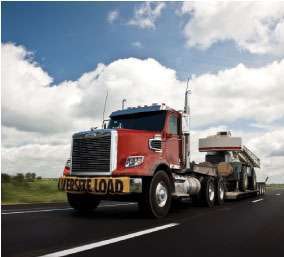 updated on-highway Coronado. Both models come with a choice of four engines: the Detroit Diesel DD13, DD15, DD16 or the Cummins ISX.
The Coronado SD, which will replace the FLD SD, comes with a choice of Eaton and Allison transmissions, and transmission power take-offs are optional. The front axles are rated from 12,000 to 22,000 pounds, and the rear axles have capacities of 23,000 to 70,000 pounds, including TurfTrac rear axle suspension. Tag and pusher axles are available.
The aluminum cab is secured with Henrob rivets, which prevent leaking, has bonded 2-piece windshields and has a chrome-plated aluminum handle on the hood. The dashboard has been redesigned, and a fully equipped sleeper is optional.
The on-highway Coronado features traditional styling, new technology and improved aerodynamics. It has a one-piece fiberglass hood, a stainless steel grille, a chrome-plated handle, new headlights and a two-piece windshield.
Dual chrome steel intakes positioned on either side of the hood are standard on the new model. The aluminum cab has noise panels in the floor, front wall and on the sides and back panel, as well as double-sealed doors. Oregon burl wood trim accents the dashboard.
FREIGHTLINER, https://freightliner.com/
Heater regulates trailer temperature
The transport heater is designed to maintain constant trailer temperatures. When the engine is turned off, the heater kicks in. The programmable thermostat is positioned behind the cab in a stainless steel box. The 92.5-pound heating unit has a heat output of 45,000 Btu per hour and burns less than half a gallon of diesel fuel an hour, the company says.
CLEAN BURN, www.cleanburn.com (800) 331-0183
Closed loop cooling
A new closed loop cooling option for the TriPac hybrid auxiliary power unit provides emergency tractor alternator backup, supplying temporary power in case of tractor charging system failure. The system can be ordered with the TriPac APU or as an aftermarket option. The TriPac system monitors cab temperature and automatically maintains a specific set temperature.
THERMOKING, https://www.thermoking.com/ (952) 885-3505
Fatigue alarm

The updated Lane Departure Warning system, using a windshield-mounted camera, alerts drivers when they unintentionally cross lanes. New features include allowances for different light conditions and roads that have only a single lane marking or fog line, improved curve tracking for tight turns and alarm volume control.
ITERIS, www.iteris.com, (800) 933-0339
Glass mat battery
The OverDrive AGM 31 battery is a sealed, absorbed glass mat battery built for idle-reduction technology. The battery does not require water and recharges while the truck is running. It is encased in polypropylene and comes with Trojan's flame arrestor pressure vent.
TROJANBATTERY, http://www.trojanbatter.com/Overdrive, (562) 236-3038
Laptop mount
The Mongoose is a locking slide arm for mounting laptop cradles and docking stations. The 9-in. arm can be mounted on most upper pole assemblies. It extends 4 inches and locks into place when pushed back to the original position. The Mongoose is offered with an optional motion attachment, which allows vertical tilt and 360-degree rotation. It is made of heavy gauge, black powder-coated steel.
GAMBER-JOHNSON, www.gamberjohnson.com, (715) 344-3482
Low-odor cleaner
A new low-odor brake and parts cleaner is a non-chlorinated spray. The citrus aerosol leaves no residue and can be used without removing the brake unit.
CYCLO INDUSTRIES, www.cyclo.com, (800) 843-7813
Windshield water beader
The ClearWinner product causes water on the windshield to bead up and blow off as you drive. The water-based product can be added to the windshield washer reservoir and used on Lexan, Plexiglass, Fiberglass, plastic or glass.
RACE SHOP, www.simmsbikewerks.com, (608) 347-3963
Portable air conditioner
The new portable air conditioner, GO COOL, is 17.3 inches wide by 20 inches deep by 24 inches high and fits on the floor of most sleeper cabs. The device uses ice and a small amount of water instead of freon. The system uses less than 2 amps and is powered via cords for either a standard electrical outlet or a vehicle lighter receptacle.
COMFORT INNOVATIONS, comfortinnovations.com (225) 324-1890
Horn system plays MP3s
The FX-550 system will sound any MP3 audio clip in place of the horn. The FX-550 is a three-piece system and includes an FX-550 player, an AP-150 audio amplifier and an SR-100 speaker.
HORNTONES, www.horntones.com
Torque and angle wrench
The TechAngle torque and angle wrench measures inches per pound, feet per pound, nanometers and degrees at the touch of a button. Each button has one of the following functions: power on, select unit of measure, increase/decrease fastener torque setting and increase/decrease fastener angle setting. All models include three double-A batteries and feature a stand-on handle bottom and sealed keypad and ratchet head. The flex-head ratchet moves 15 degrees in both directions.
SNAPON, https://www.snapon.com/ (877) 762-7662