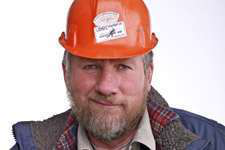 Alex Debogorski, star of "Ice Road Truckers" television show, will sign autographs in the Bridgestone Bandag Tire Solutions booth at The Great American Trucking Show in Dallas, Aug. 26-28.
Bridgestone, a division of Bridgestone Americas Tire Operations, will be in the Dallas Convention Center, at booth #16089. Debogorski will be featured with the Firestone-brand truck tire team.
 
Debogorski will appear Aug. 26-27 from 1-4 p.m. and Aug. 28 from 12:30-3 p.m.
A trucker for 38 years, Debogorski has been driving the treacherous ice roads of the Northwest Territories, Canada, for 28 years. Described as a larger-than-life character and something of a good-luck-charm to his fellow truckers, he typically pulls the first load onto the ice each season.