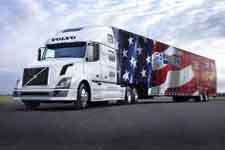 Volvo Trucks North America will sponsor the safety outreach program, America's Road Team, again in 2011, the truck maker announced. The program enlists professional drivers with outstanding records to advocate safe driving in public forums.
Team members are referred to as captains, many of whom may have driven millions of accident-free miles. Drivers often use Volvo VN tractors to transport the Road Team trailer for the program's founder, the American Trucking Associations.
Read more at Volvo Trucks.