PM for paint and aluminum
It's good old dirt, along with winter chemicals, that causes your tractor's beautiful finish to deteriorate. Periodic care can stop that process.
Regular washing every two weeks and after a snowstorm is ideal. Have it cleaned professionally unless you can do a comparable job yourself.
Also, cleaning off rust with sandpaper and repainting the spots, restoring the finish of aluminum components, and waxing key areas will guarantee a truck that will look young even when it's old.

Pressure-wash the frame and other undercarriage parts. Use a water temperature of at least 100 degrees in warm weather, 140-150 degrees or more in cold weather. When it's in the teens, don't try washing.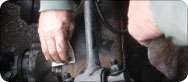 Prepare rusted areas. Clean off rust. Tap gently with a flat-faced hammer to loosen peeling paint. Sand thoroughly with coarse sandpaper. Frame paint often peels off around bolts and bolt holes.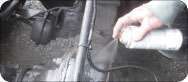 Spot-paint rusted areas. Apply primer and give it 10 minutes to dry. Then apply a high-quality enamel with your spray can.
Especially right before winter, apply wax to the painted areas and wipe clean. Wax not only provides a protective film, it keeps dirt from sticking, making the cab easier to keep clean.
When aluminum wheels and tanks start to get dull, use a brightener solution to strip the layer of oxidized aluminum, leaving a bright finish. Polish immediately and then as often as you can. Buffing with an orbital motor with polishing attachment works even better. CAUTION: Repeatedly applying a brightener without polishing can turn the surface to an ugly white. n
Try a soft touch
When using a pressure washer, use a water softener. Connect the hoses so the water passes through the softener and then to the pressure washer. Soft water allows the detergents to dissolve – otherwise they can't do their job.
TOOLS
• Pressure washer
• Brightener solution
• Water softener
• Hammer
• Coarse sandpaper
• Primer
• Spray paint
• Wax
• Clean rags