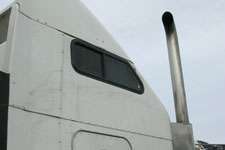 The California Air Resources Board is accepting comment on proposed alterations to three truck emissions rules that will be considered at its Dec. 16-17 meeting.
The recession resulted in less truck activity, which yielded better air quality but tightened business operations. As a result, the board is considering amending the Truck and Bus, Drayage Truck and Tractor-Trailer Greenhouse Gas regulations.
The board held several workshops to gather public reaction. Read more about the proposals here.
Written comments must be received by noon Dec. 15 and can be submitted:
• Via mail at Clerk of the Board, Air Resources Board, 1001 "I" Street, Sacramento, CA 95814
• Electronically here.
Comments may also be submitted at the upcoming Sacramento meeting, which will be webcast. For more information contact the Clerk of the Board at (916) 322-5594.