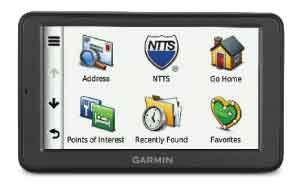 Global positioning system
The dezl, an over-the-road trucking-specific navigation unit, has a built-in loudspeaker, 5-in. display screen, trucking-related points of interest and points-of-interest ratings that can be customized. The unit has a built-in National Truck and Trailer Services Breakdown Directory with more than 30,000 repair and towing services. The device can log hours, fuel and mileage records and has predictive routing, arrival time and recommended routes based on historical traffic data and trends. GARMIN, garmin.com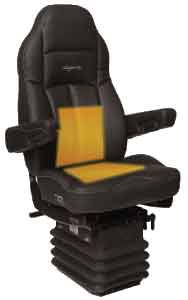 Heated seat
The over-the-road Heated Legacy Series seat has a 12-volt heater with dual temperature heat controls for back and seat cushions. Drivers can heat seats from 101-110 degrees, and constant temperature is maintained.
SEATS INC.,
(800) 443-0615
Four-axle walking beam suspension
The RWB-QUAD series of four-axle, walking beam suspensions is available in 120,000-lb. and 200,000-lb. capacities using 5-in. and 5 3⁄4-in. axles. Axle spacing is available in 50 inches and 56 inches, and beam spacing can be customized.
RIDEWELL, ridewellcorp.com,
(877) 434-8088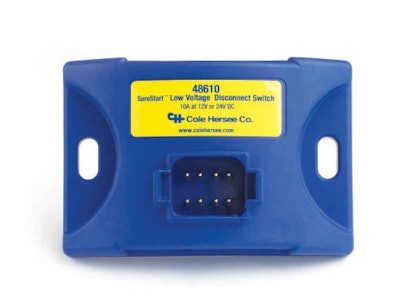 Disconnect device preserves power
Cole Hersee Company's FlexModT 48636 electronic timer automatically turns off interior lights, protecting starting batteries from being drained by leaving lights on for extended periods. The timer works on 12-volt and 24-volt systems, measures 4 in. by 3 in. by 1 in., and is waterproof, dustproof and vibration-proof.
COLEHERSEE, www.colehersee.com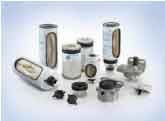 Versatile fuel filters
This fuel filter line includes filters that fit Cummins engines, Racor fuel systems, Stanadyne Fuel Manager FM100 fuel systems and Davco Fuel Pro 380/382/482 fuel processors. The filters cover applications in both on-road and off-road vehicles. Many of the filters also feature twist and drain valves to simplify water removal, self-venting design and a single-threaded port in the bottom of the filter. Some filters are manufactured with Synteq media, a composite material designed for fine particulate removal that combines cellulose and synthetic materials.
DONALDSON CO., donaldson.com,
(952) 887-3131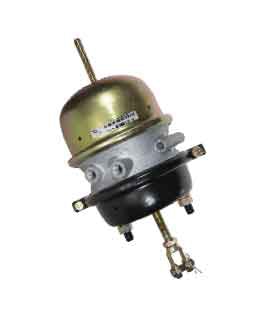 Double-diaphragm spring brake
The EverSure double-diaphragm spring brake for drum brakes has a light-weight construction designed to improve fuel efficiency, reduce vibrations and increase payload. The brake also comes with NoTouch technology, which eliminates contact between compressed spring coils, allowing protective coatings to remain intact and help reduce corrosion. The EverSure spring brake meets the compliance requirements of original equipment.
Bendix Spicer, foundationbrakes.com, (866) 610-9709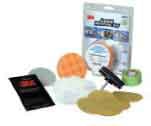 Headlight renewal kit
The Lens Renewal Kit do-it-yourself product requires a household drill to restore the outside lens that encases headlights. The renewal process takes less than an hour, eliminating blurry, dull film that accumulates from light, weather, insects and road chemicals. The kit features a three-step process and restores most plastic lenses, including headlights, taillights, trailers, emergency lights and off-road vehicle lights.
3M, shop3m.com

Aftermarket mirrors
The new aftermarket mirrors for all Class 6, 7 and 8 trucks come in two styles, the 8-in. convex mirror and a 7-in. by 16-in. West Coast mirror, available in heated and non-heated options. The West Coast mirrors have a stainless steel finish, heavy-duty multi-channel construction and 5⁄16-in., No. 18 mounting studs for installation. The convex mirrors come in chromed steel and have an adjustable ball stud and glass mounted in ozone-resistant vinyl. They come with an L bracket installation setup. The mirrors include an 18-month warranty and are available through authorized Kenworth and Peterbilt distributors.
TRP Aftermarket Parts, TRPParts.com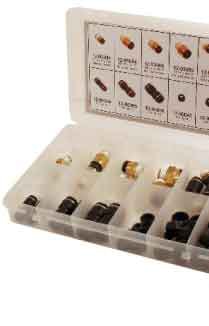 Push-to-connect composite air fittings
The push-to-connect composite air fittings kits contain a collection of mail connectors, straight unions 45-degree male elbows and dustboots. The 80-1291 Travel Kit has 48 pieces and the slightly larger Shop Kit has 110 pieces.
PHILLIPS INDUSTRIES,