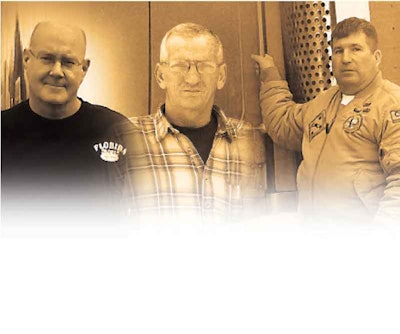 When you consider moving to a new fleet, look beyond bonuses and other come-ons.
The recruiting wars are back. Over the last year, carriers have dusted off promotions designed to grab the attention of company drivers and owner-operators.
"We've offered sign-on bonuses in the past but quit when the economy went down," says Betty Nix, director of recruiting at Boyd Bros. Transportation. "We brought it back in when it became tougher to get drivers. It helps."
$1,200 sign-on bonus
FREE insurance for your first FOUR weeks
$2,400 lease completion bonus!
Recruiting pitches may be tempting if you've been contemplating a new lease, but savvy operators will look beyond the surface of bonuses and recruiters' claims. Instead, their research will include key questions about pay, loads, routes, fuel surcharge and other business details.
Some of that investigation can be done by reading company websites and recruiting ads or materials, but much of the detailed information you need comes from talking to people. Networking with other owner-operators can give you the best information on pay packages, options and company culture, says Joe Rajkovacz, director of regulatory affairs at the Owner-Operator Independent Drivers Association.
While operators say they want to work with a carrier that will treat them fairly and answer their questions honestly, detecting if that's practiced is difficult. You can learn somewhat how they will treat you in talking with a recruiter or dispatcher, says Chris Brady, president of Commercial Motor Vehicle Consulting.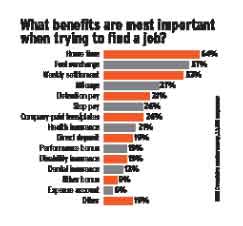 "How open are they to giving you information?" he asks. Ask for independent contractor references and other outsiders who might address the company's business practices and reputation.
And remember: The best move may be the move you don't make. Because of the thousands of dollars in costs associated with it, a move between carriers could hurt your business if it's done for the wrong reasons.
"One move a year is very expensive and hard to come back from in less than a year," says David Wolff, fleet lead business consultant at financial services firm ATBS. "If you move twice in a year, you're probably going to be out of business."
Pay package
Most operators switch carriers to generate more income, but moving to pick up a penny or two a mile more may not pay off. Rajkovacz says most per-mile rates among comparable carriers vary within a nickel of each other. Still, factors other than mileage pay can boost – or deflate – your total compensation.
"A carrier might offer you what looks like a high percentage and nickel and dime you on the backside," Rajkovacz says.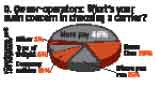 Ask if fuel surcharges are available and if they are lumped in with the base pay or paid separately, recommends Brady. Wolff suggests checking if the fuel surcharge is nationwide or varies by region, and what miles-per-gallon the surcharge is based on; 6 mpg is common. Always confirm that 100 percent of the surcharge is passed along to owner-operators.
Rajkovacz says his choice is percentage pay, with which you often can earn 70 to 75 percent of the contract and another 10 percent if you supply the trailer. "A percentage contract is where you'll make the jack if you're a go-getter," he says.
Wolff cautions against making a sideways move. If you are going to be hauling the same type of freight in the same lanes, you may end up spinning your wheels unless you make significantly more money, can gain more home time or reap some other clear benefit.
And even with higher pay rate, the transition is more costly than it appears. Downtime is involved with investigating prospective fleets, leaving your carrier and turning in equipment, going through orientation and learning the ropes as you start up. Also, out-of-pocket costs such as paying escrows and other front-end fees often accrue.
One of those expenses can be the base plate, which the carrier might provide. Rajkovacz suggests providing your own, primarily to give you more independence in case you want to move between carriers.
Incidental elements of the pay package to consider are if the carrier offers detention pay, layover pay, empty mile compensation and pay for loading and unloading or reimbursement for lumper charges. Does the carrier reimburse for tolls? Does it pay your fuel taxes or are they charged back to you? When are settlements paid?
Also ask about potential chargebacks. Does the carrier charge for primary liability insurance or onboard fleet management systems such as electronic recorders or Qualcomm tracking systems?
Miles and lanes
Ask any carrier you're evaluating about expected miles and routes, and ask its operators what miles they're getting, too. You don't want to make a move for a small per-mile increase only to get fewer miles than you expected. If you can make more money and drive less, you'll be ahead of the game.
Where does the carrier run and will you have a choice of routes and loads? How often do operators get home?
In assessing routes, loads and miles, you want to factor in the lifestyle you're seeking to maintain. Ask if certain routes or regions are open that would accommodate getting you home as often as you need to be. Same goes with the availability of anything you want to specialize in, such as heavy haul or high-touch loads.
What age truck is the carrier willing to take? Long-haul in a 10-year-old truck might be an issue.
Does the carrier require occupational accident or workers' comp insurance? Most states limit workers' comp to employees (company drivers, in the case of truck driving); occupational accident coverage is more common for owner-operators. Whether or not you prefer having such coverage, be aware of any carrier requirements for owner-operators to have it and how much it will cost.
A sellers' market means higher pay
One key ingredient in searching for a carrier is assessing the current supply and demand situation for owner-operators of your experience level. You're selling your services, but how much are carriers willing to pay?
Before the recession, "carriers would take anyone they could get," says David Wolff of financial services firm ATBS. During the recession, drivers and owner-operators were in low demand. Now, as the recession lifts, carriers have "taken time to weed out the deadwood and they don't want to rehire it."
One reason they're trying more than usual to avoid unsafe or otherwise bad drivers is the implementation of the Compliance, Safety, Accountability program, with its strict accountability on inspections and accident data. It means good carriers cannot afford to lower their ratings by hiring sub-par drivers.
The growing demand for drivers, driven by the economy and CSA, is reflected in compensation. Trucker pay began rising the first quarter of 2010 after declining from 2007 to 2009, though it hasn't recouped what was lost.
Driver pay rose most aggressively in flatbed, led by Maverick and Boyd Bros., says Gordon Klemp, principal of the National Transportation Institute, which surveys mid-size and large carriers. Both increased pay 6 cents a mile in the first half of last year. Dry van and refrigerated carriers raised pay 1 and 2 cents, respectively, in that period, Klemp says. In a 2010 survey, 88 percent of carriers said they would have to raise pay 2 to 4 cents a mile through this June.
Klemp estimates that 35 percent of flatbed carriers, 27 percent of refrigerated and 13 percent of dry van companies now offer sign-on bonuses. They range from $250 to $2,500 for solo drivers, with $1,000 being the most common amount. Bonuses for teams are running $5,000 to $10,000.
WANTED:Better lease arrangement
Independent Eyes Expansion
Garry Grant owns two tractors and 15 trailers and has operated under his own authority for two years as Garry Grant Carriers & Logistics near Orlando, Fla. He's talking with investors to finance an expansion that includes adding at least two trucks. He's leased on to Landstar, but is evaluating other carriers for when he expands.
"We don't want to be limited to one carrier," Grant says. "This will give us more flexibility who we haul for."
Grant does self-dispatch with Landstar and is looking for a similar arrangement with another carrier. He wants to keep his truck colors and logo and grow his independent fleet under the umbrella of multiple carriers. "What I'm looking for from them is the flexibility of total independence," Grant says.
Grant, an owner-operator since 1994 who plans to stop driving when he adds to his fleet, is asking carriers about their compensation packages — how fast settlements are paid, availability and amount of fuel surcharges, access to repair shops and parts discounts. He's looking at company size, loads, routes and safety records. The latter is important because he maintains his own electronic logs and wants to team with a carrier that has a good standing with the Federal Motor Carrier Safety Administration.
Leasing for the First Time
For the past three years, Karl Phares has been running under his own authority, primarily hauling heavy equipment in the Cincinnati area and greater northern Kentucky. Now he's eyeing a carrier for his future.
In May he's scheduled to depart for Iraq, where he will work with the U.S. Army's "Last Man Out" mission designed to wind down operations. If his assignment unfolds as planned, he'll return to his Kentucky home in January.
He plans then to use his 1998 Kenworth with 650-hp Caterpillar to pull medium-size equipment. Eventually he wants to transport heavy equipment and other challenging loads. He will be leasing on to a carrier for the first time.
His research consists of talking with other truckers on the phone and chat boards and reading industry magazines. He's discussed carriers with friends who are long-haul truckers. Important considerations include where the carrier operates and its loads.
Size, too, matters. He's interested in a smaller carrier where he can "be treated as human being rather than just a number," he says. "Some companies I want to stay away from will hire anybody with a CDL. What kind of customers do they have? If they have customers that are a pain to deal with and slow to pay, that's usually indicative of a carrier that is not well run, either."
Searching for Better Pay
Owner-operator Fredrick Elkins wants to lease to a carrier that tells the truth about pay and perks. He's been burned in the past, he says. A "friendly, open staff you can talk to and won't lie to you about what they'll pay" is near to top of his list of requirements, he says. "Everyone promises you the stars, but you barely make the moon."
The Orem, Utah, owner-operator wants a minimum of $1.20 a mile and loads that carry a fuel surcharge that is fully paid to him. He'd also like to find a carrier that offers health insurance contractors can buy into.
Elkins estimates he's contacted more than 60 carriers in the last six months. He's narrowed his list down to four, and his next step will be to find drivers with those carriers to discuss their experiences.
"You can go online and read bad things and good things about carriers," he says. "Unless you can find someone who drives for that company, you can't find out if it keeps its promises or not."
Turning over a new leaf
Glen Rice says more than two years ago his carrier asked drivers to take a pay cut to help the company stay solvent. Last year, he says, the company reported record earnings but the pay cuts were never restored.
"They kept taking away pennies here and pennies there," says Rice, Overdrive's 1996 Trucker of the Month. "They weren't paying me for my accessorials and the paperwork was tremendous."
Rice began reading industry magazines and interviewing carriers. He paid attention to carrier safety scores coming out under the new Compliance, Safety, Accountability program. He called friends who had moved to Michigan-based Express 1 and decided to lease there at the first of this year.
Rice travels with his wife, so he's comfortable being on the road for several weeks at a time as long as the pay is right. Now he's making $1.75 a mile for average dry van loads to $1.99 for higher-profile loads, plus a fuel surcharge of 34 cents a mile.
Another reason for that choice was that Rice, who specializes in expedited hauling, wanted a carrier with interesting loads. "When we go to receiving or shipping, we like to be welcomed instead of being frowned at as just another trucker," he says.
Assessing their Options
Randy and Sandy Dudney are satisfied with the Iowa-based carrier Randy's been leased to for two years, yet that doesn't stop them from looking around. Sandy says when their 2006 Peterbilt is paid off in 16 months, it might be a good time to move on.
The Dudneys are gathering information by talking with other drivers, often getting an earful of good or bad reports. If a driver is comfortable with the company, the Dudneys ask about interactions with dispatch and how the company performed if the driver had problems. "We want to find out who was at fault," she says.
They also inquire about how distribution centers treat that carrier's truckers. They've heard comments from lumpers about carriers that keep their equipment clean, as well as those who don't present a top image. "When you hear that over and over about a company, you want to stay away from them," Sandy says.
The Dudneys pay attention to carrier safety ratings, too, because they believe brokers will pay higher rates to companies with better ratings, and in some cases will not even work with a poorly rated carrier.