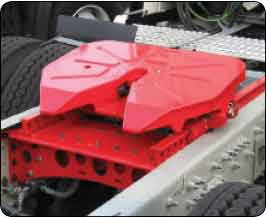 Lightweight fifth wheel
The new fifth wheel system weighs 165 pounds and mounts directly into the frame. Developed with Fontaine Fifth Wheel, the system incorporates the top plate lock design to prevent high hitching and has air actuation with in-cab release, operable only when the parking brake is engaged. The fifth wheel can support vertical loads of 50,000 lbs. and a drawbar pull of 150,000 lbs.
VOLVO, volvotrucks.com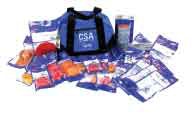 Lighting repair kit
The Roadside Lighting Repair Kit contains 23 of the most commonly used lighting-related parts. It includes 12 lamps, four styles of pigtails, three grommets, two brackets, conspicuity tape, a selection of 14-gauge butt connector and zip-tie fasteners to help stabilize field repairs. The kit measures 11 in. by 8 in. by 7 in.
GROTE, grote.com , (812) 273-1296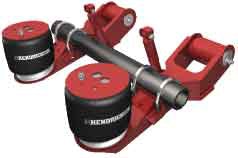 Trailer suspension
The HT250YS trailer suspension has Quik-Align pivot connection with Tri-Functional bushings for axle alignment and is 80 pounds lighter than the company's HT250 Y-beam suspension. It comes with a 5-year warranty and is designed for easy replacement of current Y-beam suspensions.
HENDRICKSON, hendrickson-intl.com
Adjustable second deck
The Lift-A-Deck II adjustable second deck for trailers can double amounts of palletized freight carried. The beams are mounted on tracks on the walls of the trailer and can slide up and down, including out-of-the-way when full trailer height is needed. The beams are rated to carry 2,200 pounds each and can be positioned in 1-in. increments. No track lubrication is needed, and loads can be secured with cargo straps, tie-offs and decking and shoring beams.
ANCRA INTERNATIONAL, ancra.com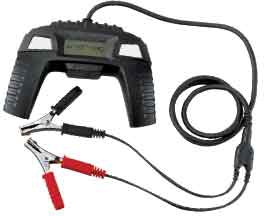 Digital battery tester
The Digital Battery and System tester for 6-volt and 12-volt batteries has the capacity to test batteries rated between 40 and 2000 CCA, including conventional, AGM, gel cell and deep cycle batteries. The tester assesses condition of discharged batteries and performance of starting and charging systems. It has 6-ft. leads, a backlit LCD display and reverse polarity and overvoltage protection.
CLORE, cloreautomotive.com
Aftermarket exhaust products
TRP Aftermarket Parts new line of exhaust mufflers, pipes and clamps comes in aluminum and chrome-plated finishes. The mufflers include an 18-month warranty and are designed to reduce noise level by five decibels to meet U.S. Environmental Protection Agency noise requirements. The new clamps use stainless steel and have bands with pre-attached hardware with force bars, nuts and reaction blocks.
TRP AFTERMARKET PARTS, trpparts.com

Cordless impact wrench
The 1⁄4-in. Square Drive Micro Cordless Impact Wrench is designed for restricted-access areas, under-the-dash work and installation and removal of interior components. The wrench has a maximum torque of 50 ft.-lb. and features a soft pistol-grip handle, an oversized forward-reverse cushioned toggle trigger and a glass-filled nylon housing. The wrench includes a 7.2-volt cordless screwdriver, two battery packs, a battery charger and a soft-sided case.
SNAP-ON, snapon.com, (877) 762-7664