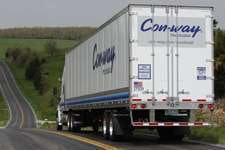 Con-way Inc. said today, June 2, it was making a $100,000 charitable contribution to support disaster relief efforts in Joplin, Mo., which was devastated by one of the most powerful tornados in U.S. history.
Joplin is headquarters of Con-way Truckload, one of the company's three principal business units, which was formerly known as Contract Freighters Inc. and has been a Joplin employer for nearly 60 years.
"We feel this tragedy personally through the impact it has had on the lives and families of our employees. We're hopeful this contribution will help speed the recovery of the greater Joplin community," said Douglas W. Stotlar, Con-way's president and CEO.
Stotlar also announced the company was making a second $100,000 contribution to a separate fund set up solely for Joplin employees of Con-way Truckload who suffered losses from the tornado. Last week, the company established The Con-way Truckload Employee Tornado Relief Fund, for Con-way employees across the nation to assist their fellow employees.
Some 47 out of nearly 500 local employees lost their homes completely or found them uninhabitable from tornado damage. Con-way employees nationwide have pledged nearly $100,000 in contributions, in addition to donations of household goods and supplies for disaster relief.
For more information about the Con-way Truckload Employee Tornado Relief Fund, visit
www.con-way.com/resources/truckload/truckload_tornado_relief_fund.pdf.