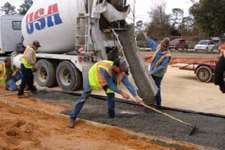 The U.S. Department of Transportation announced $417.3 million in grants to fund projects ranging from interstate maintenance to research into innovative bridge materials and construction methods.
All states, Puerto Rico and Washington, D.C., applied for Federal Highway Administration funding from 14 grant programs – more than 1,800 applications, totaling nearly $13 billion, were made.
Among the grant recipients, North Carolina received $3.75 million to improve the I-40/I-77 interchange near Statesville. The project is the North Carolina Department of Transportation's top priority and, when completed, will reduce traffic congestion and improve safety.
Colorado received $3.76 million to help with accelerated bridge construction techniques that will speed completion of its replacement of the Pecos Street Bridge over I-70. These techniques will allow the bridge to be put in place at one time, over a 50-hour period, instead of disrupting traffic over 12 months.
A state-by-state list of the FY11 grants is available here.