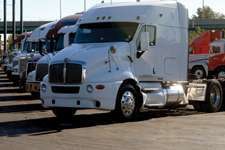 RigDig has launched truck history reports designed to help fleet managers, dealers and owner-operators evaluate used truck purchases.
By logging onto www.rigdig.com and typing in a truck's vehicle identification number, truck buyers and sellers can get vital information about a commercial vehicle.
"The launch of RigDig marks the first time buyers can check a truck's background using a service designed specifically for the commercial truck market," says James Vogel, RigDig general manager. "By meshing a variety of data sources that track junk and salvage vehicles, total loss insurance claims, title and odometer brands, accidents, inspections, ownership, cargo hauled and CSA (Compliance Safety Accountability) scores, RigDig gives truck buyers a level of confidence in making purchase decisions that's unprecedented," he says.
RigDig was developed by researchers at Equipment Data Associates, a division of Randall-Reilly Business Media & Information that has been compiling equipment-related information in trucking, construction and other industries for more than 20 years.
RigDig reports can protect the used truck buyer from making bad investments by alerting them when the truck may be:
Junk or Salvage Yard Vehicle. Through RigDig's partnership with the Department of Justice's National Motor Vehicle Title Information System (NMVTIS), RigDig can alert unsuspecting buyers to trucks that may have shown up at a junk or salvage yard.
Total Loss Insurance Claims. Also provided through RigDig's integration with NMVTIS, RigDig can help the used truck buyer know if a vehicle was written off as a total loss before they buy or sell.
DMV Title Brands, such as Junked, Salvage or Flooded. RigDig's partnership with the Department of Justice's NMVTIS database allows RigDig to deliver Title information in RigDig in real-time.
Involved in a federally recordable accident. RigDig's database includes more than 639,000 federally recordable, tow-away accidents for Class 3-8 trucks (for valid VINs) since 2000.
Involved in a less-severe, non-federally recordable accident. RigDig's database includes more than 139,000 post-accident inspections for Class 3-8 vehicles since 2000.
Properly maintained. Multiple inspection or out-of-service violations identified in a RigDig report may indicate poor vehicle maintenance that could make the vehicle less safe or result in higher repair costs.
Truck Specifications. RigDig reports also provide a truck's original factory specifications so users can see if a truck has been modified.
UCC Liens. Buyers can also check to see if any Uniform Commercial Code liens were tied to a truck's VIN.
Reports can be purchased for $34 each or three for $60. Also, monthly subscription plans are available.