On Sept. 1 at 8 p.m. EDT, Truth About Trucking Live host and fuel hauler Allen Smith and Overdrive Senior Editor Max Kvidera will discuss truckstop electrification (TSE), which Kvidera examined in-depth in Overdrive's August issue.
The online call-in program can be heard via BlogTalkRadio.com/TruthaboutTrucking or listened to via call-in. For details, visit the website.
TSE is one way to avoid truck idling and provide further options for driver comfort during rest periods at truck stops. The TSE industry is trying to regain momentum after the well-publicized flameout of former IdleAire — now IdleAir.
While some truck stops remain leery of hosting electrification providers and take a wait-and-see attitude, a handful of companies, including IdleAir, are slowly adding electrified parking spots along major interstates. Find out what you can expect from the future of TSE on the program.
For background on TSE, click here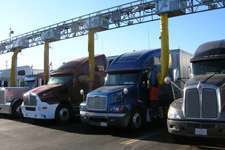 for this month's story about TSE.