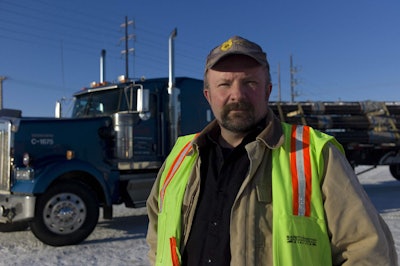 Ice Road Trucker Dave Redmon said in an interview with Overdrive's sister magazine Truckers News that the show's production crew fabricates scenes in the series and "went out of their way" to make him look bad. "They really, really spent a lot of effort making me look terrible in Alaska," Redmon says. "The stuff you see on TV is totally so far from the truth it's just unreal."
Redmon said in the interview his perceived firing from the show in the Sunday, Sept. 18 episode "Judgment Day," was scripted. "I know it doesn't look that way on TV, obviously," Redmon said. "They had scripted me to be the bad guy on the show, and it just scripted me to get fired."
When asked for comment, the History Channel said in an email: "Dave Redmon was part of the production for two years. We wish him well in his future endeavors."
The Riverside, Ala., native said the show cited his perceived inability to be a "team player" as its justification. "My so-called attitude and not getting along with everybody [was why]. I was doing my job and I was doing it safely, I just didn't get along with everybody."
Redmon said the History Channel, which produces the show, sent him a cease-and-desist letter after he posted some of his issues with the show on Facebook. When episodes aired, he says he would post on Facebook to "try to put things a little bit in perspective."
"They put lies and stuff on there about the things I do," he said. "If there's a totally fabricated scene, I will put the truth on Facebook so everybody can see it."
He's hired a lawyer in case a lawsuit breaks, which he said he thinks is a possibility. "I really do potentially see a lawsuit coming from somebody. I don't know if it will be me after them or them after me," he said.
Three weeks after Redmon left in the spring, he boarded a plane to Bolivia in April to start filming the Ice Road spinoff IRT: Deadliest Roads. The show premiered Sunday. However, Redmon says the season's second episode, which will air Oct. 2, will be his last. He and Rick Yemm quit due to issues with unsafe equipment.
"It was going to get somebody hurt," he said. "I wasn't going to die in that country and neither was Rick, so we just ended up leaving."
Redmon says the trucks were in bad shape, and they wouldn't stay running long enough to film the show correctly. Compared to last year's IRT: Deadliest Roads series, which took place in the Himalayas in India, "everything was 10 times more dangerous" in Bolivia.
"They were just wanting too much from us. They were trying to get somebody killed basically is what it was."
Redmon stayed to film the show for about three weeks before quitting and leaving, and he returned home to resume his oversized load hauling business. "There will be absolutely no more shows for he," he said. "They don't have a wheelbarrow big enough to pay me."