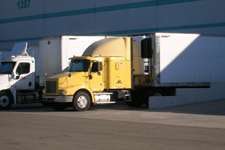 TransCore Oct. 17 announced its September North American Freight Index rose 3.2 percent from August and 45 percent compared with September 2010.
September marked the highest same-month spot market freight availability since the aftermath of Hurricane Katrina. The month-over-month increase from August to September follows typical seasonal patterns.
Alongside the increase in spot market freight volumes, truckload freight rates gained in September for all equipment types. National average rates increased 2.3 percent for dry vans from August and 3.9 percent compared with a year earlier, excluding fuel surcharge.
Refrigerated van rates were up 1.3 percent versus August and 2.1 percent year over year.
Flatbed rates were stable month-over-month with a 0.6 percent increase compared with August, but that segment gained 10.2 percent year-over-year due to high demand.
TransCore's monthly North American Freight Index reflects spot market freight availability on the company's network of load boards in the United States and Canada.