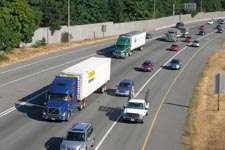 TransCore said its North American Freight Index increased 36 percent in November from November 2010, the third consecutive month with the highest same-month volume since 2005.
Compared with October, spot market freight volume slipped 4.4 percent, a normal seasonal trend, the company said. Spot market freight volume has declined in November since the company established the Index in 1996, with an historical average decline of 15 percent.
TransCore's monthly North American Freight Index reflects spot market freight availability on the company's network of load boards. Rate information also is provided by TransCore's Truckload Rate Index and reflects linehaul rates, excluding fuel surcharge.
Truckload freight rates increased year-over-year on the spot market in November for all equipment types. When compared with October, rates rose for dry van and refrigerated in November, but declined for flatbeds.
Dry van rates rose 6.3 percent compared with November 2010 and increased 0.7 percent compared with October. Refrigerated van rates rose 3.0 percent year-over-year and 1.9 percent month-over-month. National average rates for flatbeds increased 6.4 percent compared with the same month in 2010 but declined 4.0 percent compared with October.