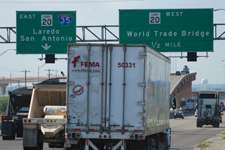 Surface transportation trade between the United States and Canada and Mexico in November increased 12.7 percent over November 2010 to $76.7 billion, said U.S. Department of Transportation.
In November U.S.-Canada trade rose 12.2 percent to $44.3 billion, and U.S.-Mexico trade gained 13.3 percent to $32.4 billion.
Surface transportation includes freight movements by truck, rail, pipeline, mail and Foreign Trade Zones. In November, 84.8 percent of U.S. trade by value with Canada and Mexico moved via land.