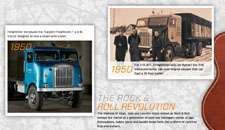 Freightliner Trucks has launched a new website, www.freightlinertrucks.com/70years, to kick off its 70-year anniversary celebration.
The site provides a look at Freightliner's legacy of innovation with a detailed timeline that showcases the company's products and technological milestones.
Freightliner Trucks will continue its anniversary celebration at the truck show in Louisville, Ky., in March with a comprehensive showcase of vehicles featuring the company's most sophisticated technologies. A concept truck, fully loaded with cutting-edge advancements and unique features, will also be on display.
"Seventy years ago, Freightliner Trucks first set industry standards with our products and technologies, and we've continued to raise the bar by developing vehicles that enhance productivity, reliability and driver comfort," said David Hames, general manager, product marketing and strategy for Daimler Trucks North America.
Visit the Freightliner Trucks booth (#30125) at the truck show for more information on the company's 70th anniversary celebration and to view its latest technology and product offerings.
For more information, go to www.FreightlinerTrucks.com.