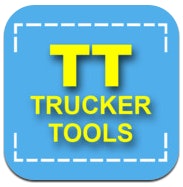 The Trucker Tools app has lots of useful tools to equip your pocket-sized toolbox — also known as a smartphone.
It allows drivers to submit details for obtaining permits, tags, state and interstate authority, DOT compliance information, bookkeeping services and factoring services.
The app also offers easy access to locations you need to know about – truck stops, scales, rest areas and Walmarts. You'll also find Truck Stop Coupons and a load board with 50,000 new loads per day.
Trucker Tools is available on the iPhone and the Droid.
Want to check out more useful apps? Watch this short video of 10 must-have trucking apps.
Trucker Tools was created by Overdrive publisher Randall-Reilly Business Media and Information and a partner.