2011's top 30 products
Back by popular demand
We tallied readers' requests for more information on products published in MarketPlace during 2011 to determine which were the 30 top items. In this recap, you'll find winners from well-known industry leaders, as well as some lesser-known surprises.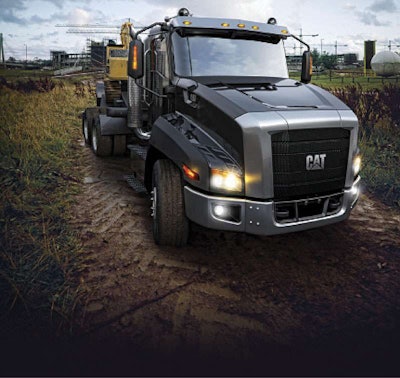 1. Cat, Navistar team on vocational truck
Caterpillar's CT660 vocational truck is "essentially new from the frame rails up," said the engine maker's engineers when deliveries began last July for the set-back axle configuration Class 8 truck.
Caterpillar CT11, CT13 and T15 engines are Navistar MaxxForce engines, with displacements of 11.1, 12.5 and 15.2 liters, respectively. Horsepower ratings range from 330 to 550 and peak torque ratings range from 1,450 to 1,850 lb.-ft.
The CT660 has a brushed aluminum grille surround with an aerodynamic hood featuring a sloped design for increased visibility and decreased drag for greater fuel economy.
The truck's instrument cluster and center stack have an integrated speedometer/tachometer that can be read through the steering wheel.
Cat offers its Cat Link equipment telematics system as standard, with a complimentary three-year subscription on all CT660 trucks.
CATERPILLAR, cat.com
NAVISTAR, navistar.com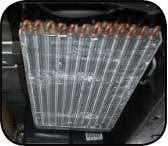 2. No-idle A/C system
The battery-powered Arctic Breeze Truck A/C system is a no-idle, split system that requires no auxiliary power unit and can be used in either Class 8 long-haul trucks or local delivery applications. The condenser and the fan are mounted externally, while the compressor and motor are installed inside the cab. On larger trucks, the entire system can be mounted to frame rails behind the cab.
HAMMOND AIR CONDITIONING, articbreeze-truckac.com,
(800) 267-2665

All-in-one metal polish
Buff Magic metal polish and surface reconditioner can be used on clear coat and fiberglass and on headlights to restore looks or remove scratches, mineral deposits and oxidation. The product can be used to clean and polish wheels, exhaust tips and bumpers and any other part made of steel, aluminum, brass, bronze, copper, gold and other metals.
SHURHOLD, shurhold.com,
(800) 962-6241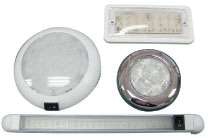 4. Interior and dome LEDs
The safety lighting line from Peterson includes two dome lights and two interior lights. The 361, a clear 4-in. round two-wire LED light, has six diodes, polished stainless steel housing and a removable frosted lens. The 369S, a 12-in. swivel two-wire LED interior rail light, has 24 diodes, an on-off switch and white plastic housing. The 366, a 5.5-in. by 3-in. rectangular two-wire LED dome or interior light, has 24 diodes and white plastic housing that mounts on four 11⁄16-in. centers. The 379S, a clear 5.5-in. round two-wire LED dome light, has 30 diodes, an on-off switch, white plastic housing and a removable plastic lens.
PETERSON MANUFACTURING, pmlights.com
5. Freightliner's Severe Duty Trucks
Freightliner's Severe Duty line is made for Class 7 and 8 vocational markets. The SD series comprises 108- and 114-in. bumper-to-back of cab configurations with set-back axle positions as well as a Coronado SD version for extreme heavy-hauls and severe off-road applications. The 108SD features a 42-in. set-back axle with rating from 10,000 to 20,000 pounds and single and tandem rear axle options from 21,000 to 46,000 pounds. Power options include a standard Detroit Diesel DD13 or Cummins ISB and ISC diesel engines.
The 114SD vocational truck features a set-forward axle with a standard 31-in. position or an optional 29.5-in. bridge formula configuration, and a set-back 48-in. setting for enhanced maneuverability. Front axle ratings are available up to 23,000 pounds, and heavy rear axle configurations for single axles are available up to 38,000 pounds. Tandem rear axle ratings range up to 58,000 pounds and tridem ratings are up to 69,000 pounds.
FREIGHTLINER, freightlinertrucks.com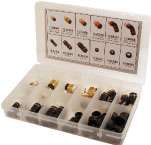 6. Composite air fittings
The push-to-connect composite air fittings kits contain mail connectors, straight unions, 45-degree male elbows and dustboots. The 80-1291 Travel Kit has 48 pieces, and the larger Shop Kit has 110 pieces.
PHILLIPS INDUSTRIES, phillipsind.com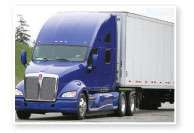 7. Kenworth upgrades T600
Kenworth Truck's T660 regional hauler configuration offers shorter wheelbases, tighter chassis packaging, enhanced maneuverability and weight savings, the truck maker says. The new T660 configuration removes the standard under-cab chassis fairing and replaces it with a cab-mounted extension of the hood fender. This allows larger diameter 24.5-in. and 28.5-in. fuel tanks to fit under the cab.
Seats offered exclusively for the T700 have an advanced air suspension system that can automatically adjust to the driver's weight. Also offered is an adjustable shock that provides drivers with various height adjustments.
KENWORTH, kenworth.com

8. Flexible oil funnel
The Form-A-Funnel Draining Tool bends and can hold its shape to guide oil from large vehicles into oil drains. The tool is made of an aluminum alloy encapsulated in nitrile rubber. It is impervious to automotive fluids and chemicals.
NEW PIG, formafunnel.com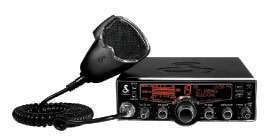 9. Hours-logging CB radio
The 29 LX CB Radio features a clock-timer that tracks driving hours. It functions as an alarm clock, a weather alert scan that advances to the clearest NOAA weather channel and a Radio Check Diagnostic to monitor the radio's RF power output, antenna system and battery voltage. The radio includes a 4-watt AM RF power input, Delta Tune to clarify incoming signals and adjustable Dynamike boost to increase the microphone's sensitivity for enhanced clarity.
COBRA, cobra.com, (773) 889-3087

10. Digital battery tester
The Digital Battery and System Tester can test 6-volt and 12-volt batteries rated between 40 and 2000 CCA, including conventional, AGM, gel cell and deep cycle batteries. The tester assesses the condition of discharged batteries and performance of starting and charging systems. It has 6-ft. leads, a backlit LCD display and reverse polarity and overvoltage protection.
CLORE, cloreautomotive.com

Collision mitigation system
Bendix Wingman Advanced uses a radar sensor mounted to the vehicle's front to notify drivers of metallic objects in the vehicle's path, allowing three seconds for driver response before impact.
BENDIX, bendix.com

GPS traffic feature
The Rand McNally IntelliRoute TND GPS units offer historical and real-time traffic views. The historical traffic function is based on accident reports, public sensors, weather, construction and local events. It predicts expected road speeds on most freeways and major highways.
RAND MCNALLY, randmcnally.com/truckgps
Mack fairings added
Aerodynamic enhancements to Mack's on-highway Pinnacle increase fuel efficiency by up to 12.5 percent. Roof fairings are available on the 70-in. high-rise sleeper and the 60- and 70-in. mid-rise sleepers.
MACK, macktrucks.com, (800) 866-1177

XE13 equips VN670
The XE13-equipped Volvo VN 670 tractor has a fully integrated drivetrain. The XE13, a combination of Volvo's I-Shift automated-manual transmission and a Volvo engine with modified-software, allows the engine to cruise at 1150 rpm at 65 mph.
VOLVO, volvotrucks.com

Fifth wheel grease
UltraLube 5th Wheel Trailer Grease provides protection against friction and corrosion in extreme weather and heavy-duty operating conditions. The grease is packaged in a 2 oz. mash pack.
PLEWS & EDELMANN, ultralube.com

Ultra-capacitor
Maxwell Technologies' ultra-capacitor replaces one or two truck batteries and helps start a truck. The unit is dry and stores electricity on metal plates rather than through a chemical process used in batteries. The device is designed for minimal degradation as the temperature drops below zero.
MAXWELL TECHNOLOGIES, maxwell.com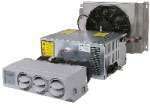 Sleeper air conditioner
The Sleeping Well Arctic 2000 Plus system operates with the truck's engine off, burning no fuel and producing no emissions. The battery-powered auxiliary system has a 12-volt system with twin compressors, upgraded system diagnostics and a wireless remote to control settings. It also has a shore power option and will fit in most sleepers.
RED DOT, rdac.com

Lighting repair kit
The Roadside Lighting Repair Kit contains 23 of the most commonly used lighting-related parts. It includes 12 lamps, four styles of pigtails, three grommets, two brackets, conspicuity tape, a selection of 14-gauge butt connector and zip-tie fasteners to help stabilize field repairs. The kit is 11 inches by 8 inches by 7 inches.
GROTE, grote.com, (812) 273-1296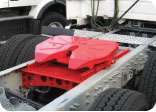 Fifth wheel system
Developed with Fontaine Fifth Wheel, the fifth wheel system weighs 165 pounds. The system incorporates the top plate lock design to prevent high hitching and has air actuation with in-cab release, operable only when the parking brake is engaged.
VOLVO, volvotrucks.com
Backlit logo displays
The backlit logos feature solid aluminum brackets and frames, aluminum composite letters, 80,000-hour LEDs and stainless steel-mounting hardware. Installation kit is included.
LOGOLIGHTS INC., lightmylogo.com

Polished chrome poly fender
The polished chrome poly fender is built to require no paint and to resist aging. The company makes products for all makes and models of on- and off-highway trucks.
MINIMIZER, minimizer.com,
(888)583-7540

CPAP alternative
Transcend, a continuous positive airway pressure machine, is FDA approved and can operate on DC power. The 1-pound device uses a battery pack, short hose and disposable hygienic heat moisture exchanger instead of a long hose, humidifier and power cord like a traditional CPAP.
TRANSCEND, somnetics.com,
(651) 621-1800

LED thermal lamp
The Trilliant Cube LED WhiteLight Work Lamp uses one-third the power of a halogen lamp. The 4 in. by 4 in. light has a rating of 1,000 lumens, a service rating of 50,000 hours and features two beam patterns with a wide flood pattern.
GROTE, www.grote.com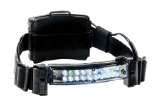 Rechargeable LED headlamp
The Command 20 Series rechargeable LED headlamps generate 60 torch lumens and are available in three models: the Fire Rechargeable, the Rechargeable Tasker S and the Rechargeable Tasker. The waterproof, rechargeable battery pack weighs 8.1 ounces and has a rear flashing LED.
FOXFURY LIGHTING SOLUTIONS, foxfury.com, (760) 945-4231

Global positioning system
The dezl, an over-the-road trucking-specific navigation unit, has a built-in loudspeaker and a 5-in. display screen. It can log hours, fuel and mileage records, and has predictive routing, arrival time and recommended routes.
GARMIN, garmin.com
Cat, Navistar team up on cabover
A cabover-engine vocational truck are being produced and sold globally in a collaboration between Caterpillar Inc. and Navistar International Corp., the companies announced. NC2, the company created and formerly co-owned by both manufacturers, will become a wholly owned subsidiary of Navistar.
CATERPILLAR, caterpillar.com
NAVISTAR, navistar.com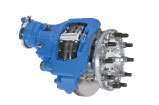 Peterbilt air disc brakes
Peterbilt's front-axle air disc brakes are now standard on all of its Class 8 trucks. A Speed Control Management System, a Model 382 vocational truck in day cab and extended day cab versions, and an all-wheel-drive version of the Model 348 vocational truck are available.
PETERBILT, peterbilt.com

Navigation device
The 5550 PRO Navigation System has a 5-in. LCD screen and features Junction View with Lane Assist, state mileage log, hours-of-service log and last-mile routing for road coverage on secondary highways. It comes with three months of unlimited downloads from a Cobra database.
COBRA, cobra.com, (773) 889-3087
End bushing
Once the pin on the Rotating Bar Pin End Bushing has been pressed in, the bar pin can be turned with a shop wrench or similar tool to the necessary axle angle. The set includes shims for axle alignment and fasteners for installation completion.
HENDRICKSON, hendrickson-intl.com

Cutting tools for nylon air tubing
Three nylon air tubing cutting tools feature preset tubing guides. The economy pocket cutter is intended for emergency services and quick repair. The standard shop cutter can cut tubing up to 1⁄2-in. in diameter, and the production line cutter features replaceable blades and a shortened nose.
PHILLIPS, phillipsind.com