Cash for those stubborn invoices


The "Factor invoices" section on the Trucker Tools app lets top freight bill factoring companies make offers to you. After uploading your information, you'll have four offers within 48 hours. Trucker Tools, produced by Overdrive publisher Randall-Reilly Business Media and Information, also has many other functions, such as Truck Stop Coupons and another one that can help you find truck stops and rest areas easily.
Scan the QR code with your smartphone to download Trucker Tools. For Blackberry users, search "Trucker Tools" in the App World.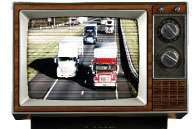 Trucking through TV's eyes
Check our home page at OverdriveOnline.com to see the latest trucking stories from local television stations and other video producers. Recent entries included news about carriers in legal trouble, a feature on a trucker hauling the Cleveland Indians for spring baseball training and coverage of the proposed legislation that would have allowed heavier trucks.

Continuing education – via truck
Overdrive's blogs have a new addition: expediter Phil Madsen, leased to Landstar Express America. He describes his Learning Something New Every Day blog as "a blend of travelogue, brain dump and commentary on road-inspired topics." You'll find his blog and others at OverdriveOnline.com.
Blogger Phil Madsen and his wife, Diane, haul expedited freight.