'Lewis and Clark' finish heavy haul
Can you imagine a haul that requires four years of planning? That's the time heavy haulers with Oregon-based Emmert International put into planning and executing a move earlier this year of two massive barrel-shaped coke drums for ConocoPhillips. After traveling from Lewiston, Idaho, 700 miles east to the company's oil refinery in Billings, Mont., the drums are part of a $50 million upgrade of the refinery due to be completed this fall.
"The coke drum moves presented us with one of the most challenging routes ever faced by a heavy transport company," company founder Terry Emmert says.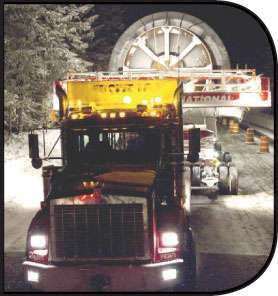 Remarkable is the custom design work Emmert put into the two trailers, dubbed Lewis and Clark: 226-foot-long, 32-axle, 128-wheel trailers distributing top and bottom sections of each shipment evenly. The nicknames stemmed from the loads following part of the exploratory trail of Meriwether Lewis and William Clark.
The first shipment, which left in February 2011, encountered winter weather that delayed its arrival until April 2011. The second was delayed by high runoff from the Yellowstone River that flooded the U.S. 12 bridge. It finally made Billings on Aug. 4, marking the end of the historic haul.
Before and after the DPF
High-soot on/off-road applications can compound diesel particulate filter cleaning issues. Know when and where to clean to avoid problems.
By JOHN BAXTER and TOM JACKSON
If you've bought a new truck since 2007, you face a new maintenance interval: servicing the diesel particulate filter. Cleaning the filter element removes accumulated engine oil ash, particularly for heavy-to-severe-duty trucks in high-idle on/off-road applications. While ash in the DPF typically remains loose, a small amount of carbon may adhere tightly to the DPF's ceramic walls, forming gooey or even hard deposits, especially if the engine is not operating properly.
Inadequate cleaning can compromise the filter's life and warranty, while thorough cleaning may result in better fuel economy and more miles. But knowing when to clean alone is not enough. Know the cleaning procedure, the vendors you're using and details for an effective plan.
When to clean
Ash doesn't burn, so it has to be mechanically cleaned out of the DPF when it impedes exhaust flow, indicated by a backpressure light on the dash. Most experts, however, believe you shouldn't wait for a warning light.
First determine the duty cycle, recommends Bob Giguere, product support manager at Inland Power Group of the WheelTime truck service network. "Under ideal conditions, in over-the-road service you can go 300,000 miles, but with a lot of idling, or local service, you'll see shorter intervals," he says. He recommends following manufacturers' recommended intervals for DPFs operated under favorable conditions.
What's favorable? Amount of oil consumed and engine hours are both primary factors, says Giguere. A major reason for clogging is ash from burned oil, and idling engines use more oil because the piston rings work less effectively. Idling also means poor combustion of fuel and more soot, potentially fouling the DPF.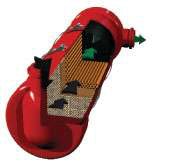 On/off-road and heavy haul operators should realize their operations put the engine in high load conditions more often than engines that power highway vehicles. Any condition that helps maintain proper airflow into the engine or optimizes the injection system will help extend mileage and hours between cleanings by minimizing soot in the exhaust. Pay attention to these maintenance items to help optimize DPF cleaning intervals:
• Necessary adjustment of overheads.
• Replacement of air cleaners.
• Charge air cooler cleaning and testing, with maintenance of intake air hoses to minimize charge air leakage.
• Periodic inspection of turbochargers for internal wear.
• Thorough injector maintenance, including adding injector cleaners and having injectors replaced or reworked as necessary.
Operate the engine at an appropriate rpm, normally at or above the torque peak, when running continuously in heavily loaded, full-throttle situations. "A driver needs to pay attention to an increase in the frequency of active regeneration cycles, loss of power, and a decrease in fuel economy," says Paccar Parts Business Development Manager Larry White.
Picking the shop
Most DPF cleaning is handled by truck dealerships. DPF cleaning equipment is often too expensive for small fleets. For example, the Donaldson system costs approximately $20,000, Emissions Group Business Development Director Fred Schmidt says, and achieves payback for customers who do more than 50 cleanings a year.
The service typically costs from $250 to $700 – a wide range because systems and procedures vary. "Cleaning methods include compressed air or heat or a combination of both," Giguere says. "But some filters may be sensitive to high temperature or pressure."
One sure approach is using a technology the manufacturer has developed. Giguere notes Detroit's method, performed in Detroit's network of reman centers, of treating the interior surfaces with a liquid is "substantially different from the methods used by other manufacturers." Detroit Engine and Component Marketing Manager Brad Williamson recommends utilizing the reman exchange program to swap a dirty DPF for a cleaned one. Detroit's reman units are covered by a one-year warranty with no limit on miles, and the change interval for a DPF cleaned with its process has the same recommended service interval as a new one.
Volvo also encourages owner-operators to exchange with a factory-reman filter. "Cleaning a DPF involves more than just using an industrial vacuum cleaner to remove soot," says company rep Ed Saxman. The reman filters have also undergone ultrasonic inspection to detect anomalies.
Another plus for manufacturer recommendations: maintaining your warranty. "If you have the unit cleaned using an unapproved method, it could alter your warranty," says Pacific Power Products Emissions Business Unit Manager Gary Parsons. Look for a cleaning process "that is documented step by step. They should be keeping records that will verify that each step of the process."
Both Navistar and Paccar partnered with DPF-cleaning equipment manufacturer FSX to develop cleaning processes.
DPFs as maintenance tools
One DPF downside is it may mask serious engine problems that used to be easy to diagnose. On older engines, when you saw white or black smoke streaming from your exhaust stacks, you knew you had a blown turbo, a faulty injector, worn rings or other issues. Today's DPFs will let little of that smoke escape.
"That is a general concern for the entire industry," says Rakesh Aneja, senior manager for product engineering with the Daimler Truck Group. With the filter masking exhaust smoke, "the diagnoses become more challenging. It may lead to aftertreatment failures if it is … loading up the filter more and more."
Frequent clogging can warn of a problem with an injector, an air handling system or oil consumption, says Myron Birschbach of Inland Power Group. Such early notice could help reduce repair costs and potential downtime.
Engine maintenance will pay dividends by extending DPF cleaning intervals. Proper maintenance includes:
• Regular oil changes to keep wear and oil consumption under control
• Ideally, use of CJ-4 oil to extend the cleaning interval
• Minimal idling.
Navistar's Mark Ehlers says to watch for head gasket leaks that could allow coolant into the exhaust stream, causing a loss of heat that inhibits the system's ability to burn off soot. Even a small but steady leak of just five gallons over time could cover the platinum oxidation catalyst designed to accelerate regeneration, leaving the unit subject to frequent clogging. Clean the hydrocarbon injector as recommended to preserve the spray pattern. Repair any exhaust leaks right away.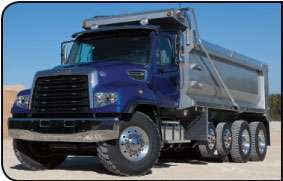 Detroit, Cummins options for SD line
Freightliner Trucks offers vocational customers Detroit or Cummins engines to power its SD severe service model line, which includes the Coronado SD, 114SD (pictured) and 108SD. With horsepower ratings from 200 to 600 and torque ratings up to 2,050 lb.-ft., whether diesel or natural gas power is needed, the options include two engines the company showcased at the World of Concrete show. The Detroit DD13 and Cummins ISL9, the company says, are particularly well-suited to operations requiring 13- and/or 9-liter configurations.
Freightliner Trucks, www.freightlinertrucks.com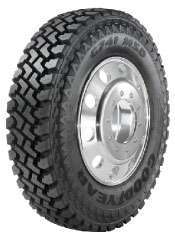 Severe service tire
The new Goodyear G71 truck tire for oil field, mining, logging and construction applications is big and durable, the company says, but also versatile and adaptable to various conditions. Extra-deep 33/32-inch tread with a wide footprint provides high mileage and traction, combined with a self-cleaning tread design to help resist mud buildup and enhance grip. The cut- and chip-resistant tread compound helps provide long-lasting performance on tough terrain with block sipes to enhance traction. The tire will be available in May in size 11R24.5, load range H.
Goodyear, goodyeartrucktires.com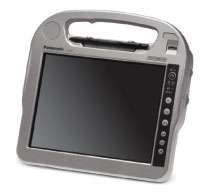 Rugged tablet
Panasonic's new Toughbook H2, a Windows tablet PC, is designed for highly mobile professionals in severe environments. Weighing in at 3.5 pounds with 6.5 hours of battery life, the tablet offers an enhanced processor and expanded drive capacity, while being faster and more versatile than its predecessor. Features include ports for ethernet, USB and true serial options as well as enhanced outdoor viewability with Panasonic's TransflectivePlus technology. The tablet also features embedded support for 4G networks.
Panasonic, panasonic.com/toughbook
NEWS IN BRIEF
In addition to collaborative work on the Caterpillar CT660 vocational trucks, Cat and Navistar have signed a non-binding memorandum of understanding to develop a new cab-over-engine Cat vocational truck that would be sold globally, part of their NC2 Global initiative.
Visit nc2.com.
The Detroit DD platform of engines – including the DD13, DD15 and DD16 – marked production of its 100,000th unit since the DD15's launch in 2007.
Visit detroitdiesel.com.
Eaton extended the warranty coverage for its Eaton Fuller Reman and Eaton Fuller Flex Reman

vocational transmissions from 18 months to 2 years. The company began similar expanded warranty coverage for all Reman and Flex Reman linehaul transmissions last year. And in addition to availability enhancements, the company also expanded its UltraShift Plus line of automated transmissions with the Vocational Active Shifting (10-speed) and Vocational High Performance (13-speedd) models. Lower torque options are available in the Vocational Construction Series and Vocational Multipurpose Series transmissions. The 18-speed Multipurpose Extreme Performance platform, to handle torque up to 2,250 lb.-ft., has also been approved for applications outside linehaul and heavy haul, including logging, mining, oil field, construction, city delivery, refuse and off-road.
Visit roadranger.com.
The Cummins ISX12 engine brings an estimated 12 percent fuel economy improvement over its predecessor, the ISX11.9, in vocational applications. Featuring better pulling power, driveability and strong clutch engagement torque, the ISX12 is designed to work in rigorous duty cycles, including those for work trucks such as dump and mixer trucks, and refuse applications.
Visit cummins.com.
Grand Junction, Colo., recently accepted delivery of four natural gas-powered Mack TerraPro Low Entry refuse trucks. Grand Junction operates an all-Mack fleet of 12 refuse trucks, including gas-powered models.
Visit macktrucks.com.
New options for the Peterbilt 382 include higher axle ratings, horsepower and torque configurations for construction, refuse, fire service and emergency applications. Power options include the Cummins ISL9 engine with REPTO functionality, front axles up to 20,000 lb., rears up to 46,000, up to 11 5/8-inch frame rails, the Bendix ESP stability system and Hendrickson, Reyco and Chalmers rear suspensions.
The Peterbilt 320 is available with traditional as well as alternative-fueled hydraulic hybrid powertrains. Options include Sheppard HD94 and SD110 steering gears and other features.
Visit peterbilt.com.
Navistar's International MaxxForce engines rank highest in customer satisfaction in J.D. Power's 2011 U.S. Heavy-Duty Truck Engine and Transmission Study, and perform particularly well in four factors: engine reliability and dependability, engine warranty, vibration at idle and average fuel economy.
Visit maxxforce.com.
In addition to a standard 12-month/100,000-mile limited warranty, SelecTrucks' new pre-owned truck certification will include a 30-Day Satisfaction Guarantee. If the owner is unsatisfied with the used truck, SelecTrucks will exchange it for another within 30 days of purchase.
Visit selectrucks.com.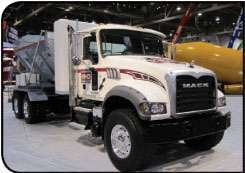 Granite Medium Heavy Duty
Mack Trucks' Granite Medium Heavy Duty (MHD) made its debut at the World of Concrete show with an eight-yard volumetric concrete mixer body. The MHD offers a lower-cost, lighter-weight option without sacrificing durability and reliability, the company says.
Mack Trucks, macktrucks.com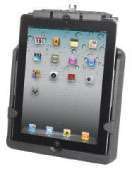 Shock-proof iPad dock
Gamber-Johnson's TabCruzer in-vehicle iPad docking station has passed shock and vibration testing and undergone extensive cycle testing for its locking mechanism feature. It comes with a 12-volt DC power supply, USB cable for charging and syncing with a computer, and a 3.5-mm stereo cable for easy connection to vehicle sound systems.
Gamber-Johnson, gamberjohnson.com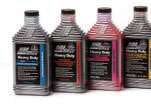 Protecting lubes
Post-warranty engines can make use of Lubegard's Engine Protectant, Gear Protectant and Power Transfer Protectant. All use LXE technology to join negative polarity and positive polarity to create a bond that offers lubrication and anti-wear protection under pressure.
Lubegard, lubegard.com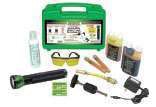 Air and fluid leak detection
The TP-8697HD kit from Tracer Products includes the OPTIMAX3000 super-high-intensity blue-LED leak detection flashlight with an inspection range of up to 20 feet. EZ-Ject A/C dye injector with hose and couplers, two EZ-Ject universal A/C dye cartridges with co-solvent-free Fluoro-Lite dye, an 8-ounce bottle of Dye-Lite All-In-One concentrated oil dye, an 8-ounce bottle of Dye-Lite coolant dye and fluorescence-enhancing glasses complete the package. Tracer Products, tracerline.com
Disc brake axle
Ridewell's new 5-inch-diameter disc brake axle is available with Wabco PAN 22 air disc brakes. The axle has a parallel spindle, a hub-piloted 11.25-inch diameter bolt circle and long stud for aluminum wheels. It has an axle beam rating of 23,000 pounds with the 0.59-inch wall and 25,000 pounds with the 0.75-inch wall. Ridewell, ridewellcorp.com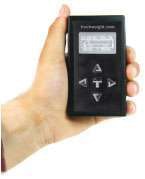 Wireless weight
The Smart Scale system features a wireless handheld receiver to maximize payloads and avoid overweight tickets in field loading applications. The system allows a driver to monitor loading from the cab, loading station or a safe distance from the truck. The system is available for both air-ride and mechanical suspensions. TruckWeight, truckweight.com
Excavators use dump doubles rig to fight MS
Second-generation Champagne & Marx Excavating President David Marx of Saginaw, Mich., approaches the fight against multiple sclerosis personally. His daughter, Christine Davis, a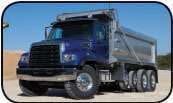 company vice president, deals daily with the condition, an autoimmune disease that affects the brain and spinal cord and comes in various forms and severities. Symptoms can range from difficulty speaking to loss of movement.
The company recently outfitted the 2012 Kenworth T800 daycab and double dump trailers pictured with a special graphics package that reflects the company's commitment to MS research. "Join the Movement" is splashed on one trailer, the MS logo and "OrangeYaCurious.com" (the address of a Michigan MS info and donation site) on the other.
"We've had nothing but wonderful comments about our MS truck and it has driven awareness and donations," says Davis, whose drivers line up to drive the special T800. "But our choice was easy," she says. "Tom Lavrack, who has been with us since 1986… [has] always been behind our MS efforts and always seems to be first to donate to the cause. When we told him we'd like him to drive the MS truck, he asked if he could take it home with him. He wanted to get it all polished up. He's as proud of the truck as we are."