Father of veteran named Back on the Road winner
Billy Basenburg will soon be driving cross-country in his own truck, with a new job and renewed spirit after being named winner of Arrow Truck Sales 2012 Back on the Road program.
The Jasper, Ala., resident lost his truck and was in danger of losing his home after a series of hardships consumed his time and drained his budget.
A decade ago, his wife was in a car accident that left her with a debilitating back injury. Basenburg had to spend time away from his business to care for his wife while she went through surgeries and rehab.
More recently, his son returned home from military service in Iraq, battling post-traumatic stress disorder and depression. Also, when Basenburg's older brother became seriously ill, Basenburg took him in and cared for him until he died.
With the truck, a 2008 Mack Pinnacle high-rise sleeper, comes a one-year work agreement with Heartland Express. Also in the package are:
• Michelin XZA3+ and X One XDA Energy tires
• ThermoKing TriPac APU
• Monthly $500 fuel cards from Pilot Flying J
• Business consulting services from ATBS
• Insurance provided by the Owner-Operator Independent Drivers Association
• A three-year/300,000-mile warranty from National Truck Protection
• A year's worth of oil changes from Mobil Delvac
• Truck accessories, fenders and a $5,000 check from Minimizer
• A memory-foam mattress from SleepDog
• An IntelliRoute TND 710 GPS from Rand McNally
• Cubby Buddy Tool Box system from 16 Ton Industries
• Health assessment and check-ups from trainer Bob Perry
• Custom truck graphics by Image Works
— Staff reports
National Registry rule finalized
The Federal Motor Carrier Safety Administration April 18 finalized a rule establishing a National Registry of Certified Medical Examiners. It requires health-care professionals who perform medical examinations for interstate truck and bus drivers to be trained, tested and certified on the specific physical qualifications that affect a driver's ability to safely operate the vehicle. The online registry will include only those health-care providers who have completed the new FMCSA certification process.
"Safety is our top priority," Secretary Ray LaHood said. "This new rule will ensure that health-care professionals conducting Department of Transportation medical exams fully understand all of the demands required to operate large trucks and passenger buses safely."
This rule addresses four National Transportation Safety Board recommendations on comprehensive training for medical examiners and tracking of driver medical certificates.
In 30 days, FMCSA will post its uniform training and testing standards for medical examiners at http://www.nrcme.fmcsa.dot.gov, where you can go for more information about the rule. At that time, health care professionals, drivers, employers, law enforcement officers and the public can review the training standards and sign up to receive updates on the rule's startup.
Health professionals must comply by May 21, 2014, at which point drivers must obtain any medical examination from a certified examiner. Medical examiners who fail to maintain federal standards will be removed from the registry.
To allow time for testing and training centers to prepare their curricula and receive FMCSA approval, healthcare professionals seeking to become certified examiners will begin registering on the National Registry website this summer.
"Truck and bus drivers deserve highly-trained medical examiners that think safety first," said FMCSA Administrator Anne S. Ferro. "By holding medical examiners accountable to high standards of practice, we raise the bar for safety and save lives through increased commercial driver and vehicle safety."
Medical examiners perform approximately three million examinations of commercial truck and bus drivers each year. A DOT medical exam looks at a range of conditions to determine a driver's medical fitness, including cardiovascular disease, respiratory and muscular functions, vision and hearing.
— Todd Dills
SHORT HAULS
DALLAS-AREA TORNADOES delivered significant damage to a Schneider National operating center and minor damage to two Pilot Flying J locations in April. No deaths or serious injuries were reported. Schneider said it had 254 trucks and 204 trailers on site at the time of the storm and its equipment received "massive damage."
TRUCKING DROPPED 1,900 jobs in March after gaining roughly 20,000 jobs in the three months prior, according to the U.S. Bureau of Labor Statistics. Payroll employment in for-hire trucking, however, is up by 41,400 jobs since March 2011, a 3.4 percent change.
J&A TRANSPORTATION posed an imminent hazard to public safety, said the Federal Motor Carrier Safety Administration, and the fleet has been ordered to halt operations. FMCSA placed the fleet out of service due to multiple hours of service, driver and vehicle maintenance violations.
USED TRUCK PRICES dipped 1 percent in February from January, says ACT Research Co. Net orders for van trailers in February were down 32 percent from January, but orders for all other trailers increased 31 percent, ACT said.
Woman's rescuer named Highway Hero
Mike Schiotis, who saved a woman from a gun-wielding attacker, was named winner of the Goodyear Tire & Rubber Co.'s 29th North America Highway Hero Award.
The other finalists were an Ontario driver who pulled a motorist from a car minutes before it exploded; a Minnesota driver who came to the aid of an elderly couple who had been trapped in a car during a raging snowstorm; and an Ohio driver who rescued a trapped motorist whose car had plunged into a pond.
On Nov. 1, Schiotis was driving in Pennsylvania when he saw a woman walking with a man close behind her. When Schiotis observed the man was pointing a gun at her, he stopped his truck and she began pounding on his door, screaming, "Help me! He's going to kill me!"
Schiotis jumped out of his truck and stood between her and the assailant. He helped the woman into his rig and began driving.
The gun-carrying man followed Schiotis, who notified the Pennsylvania State Highway Patrol and used his CB radio to tell other truckers what was transpiring. Another driver heard and drove with him side-by-side, weaving to prevent the gunman from closing in on Schiotis' tractor. This gave troopers time to catch up with the man and arrest him.
The other three finalists were:
• John Crozman of Albertville, Minn., who drives for Long Haul Trucking. While driving in a snowstorm near Summit, S.D., Crozman noticed a candle flickering inside a parked car. Crozman stopped, found an elderly couple inside and let them spend the night in his sleeper cab.
• Melville Farnell of Shelburne, Ontario, a driver for Tupling Farms Produce. A car slammed into Farnell's truck head-on, causing his tractor-trailer to jackknife and leak fuel onto the highway. Farnell broke the driver's side window and pulled the motorist to safety minutes before the car exploded.
• John Neumeier of Russia, Ohio, who drives for Bohman Trucking. He was loading his milk delivery truck Nov. 14 when a car missed a curve on a nearby road and plunged into a pond. As the car began to sink, Neumeier grabbed a wrench, dove into the pond and broke the driver's side window. He pulled the semi-conscious driver to shore.
— Staff reports
Cargo theft increases
Cargo theft in the United States increased 17 percent in 2011, says CargoNet, a collaboration of Verisk Analytics and the National Insurance Crime Bureau.
CargoNet's report said 1,215 thefts were reported during 2011, up from 1,034 reported during 2010. After the 2010 report was released another 249 thefts were reported for the year. The 2011 total also could increase.
Of the 1,215 cargo theft incidents recorded for last year, 116 involved base metals, 229 electronics, 105 apparel and accessories and 200 included prepared foodstuffs and beverages.
Most cargo thefts occurred on Fridays (227), Saturdays (202) and Sundays (198). The favorite theft locations were truck stops, carrier/terminal lots and unsecured parking lots.
Cargo theft reporting is increasing and collaboration and data sharing among the insurance and transportation industries and law enforcement is improving, CargoNet said.
— Staff reports
Roadside inspector outlines top hazards
Federal Motor Carrier Safety Administration roadside inspector Carlos Saucedo named key problem areas for drivers, fleets and truck owners during the Mid-America Trucking Show in Louisville, Ky.
Saucedo, a former driver, said the top five driver violations are:
• Log book issues – either not current or signed or otherwise incomplete.
• Driver's record of duty status isn't current.
• Driver isn't in possession of a medical certificate.
• Driver doesn't speak English.
• Fleet requires or permits driver to drive after 14 hours on duty.
He said the top five driver out-of-service violations include the carrier requires or allows driver to drive after 14 hours on duty, false reports of driver record of duty status, no record of duty status, driver fails to retain logs for previous seven days and carriers requiring or allowing drivers to drive more than 11 hours.
Saucedo also identified top five vehicle violations:
• No or defective lighting devices or reflective material, as required.
• Required lamps are inoperative.
• Tire tread depth of less than 2/32-inch.
• Inspection or repair and maintenance of parts and accessories.
• Oil or grease leaks.
The top vehicle out-of-service violations are: inoperative turn signals; flat tire or exposed fabric; inspection or repair and maintenance of parts and accessories; inadequate brake tubing and hoses; and stop lamp violations.
Saucedo gave 10 pointers for passing roadside inspections, including being prepared; having a valid CDL; keeping current logs; driving within allowed hours of service; wearing a seatbelt; knowing the critical vehicle inspection items; having a professional attitude; keeping in mind BLT – brakes, lighting and tires; knowing the three P's of hauling hazmat – papers, placards and packaging; and asking questions.
— James Jaillet
SHORT HAULS
SURFACE TRANSPORTATION between the U.S., Canada and Mexico increased 11.5 percent in January from a year ago to $75.5 billion, according to the U.S. Department of Transportation.
A FEDERAL COURT denied the Owner-Operator Independent Drivers Association's cease and desist request, asking the Federal Motor Carrier Safety Administration to not encourage use of electronic onboard recorders until the agency issues new policy on the devices. The three-judge panel did not provide reasons for its denial.
PRESIDENT OBAMA signed March 30 a three-month extension of federal transportation funding. The Republican-backed plan is the ninth extension since the expiration of the SAFETEA-LU in September 2009, the most recent long-term transportation funding law. The House is currently working on a bill that would provide transportation appropriations from July 1 to Sept. 30.
CSA series wins award for Overdrive
Overdrive received in March a Jesse H. Neal Award for its in-depth coverage of the Federal Motor Carrier Safety Administration's Compliance, Safety, Accountability program. The annual award program recognizes excellence in business media.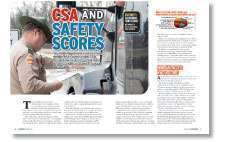 Authored by Senior Editor Todd Dills, the series appeared in the April and May 2011 issues. Part 1 covered how owner-operators can maintain their driving records, while Part 2 recommended equipment maintenance procedures owner-operators should follow to remain in compliance. The articles included original research conducted by Overdrive, as well as photos taken by Dills.
Overdrive Art Director Kenneth Stubbs designed the winning articles.
— Staff reports
SHORT HAULS
A GRAND PRIZE WINNER will be given a used 2010 International ProStar and MaxxForce 13 engine as part of International Used Truck Center's "Get Used to International" ProStar MaxxForce Sweepstakes. The winner will be named at the Great American Trucking Show in Dallas Aug. 23-25. $250 Visa Award Cards will be given away weekly to contest participants.
DRIVER TURNOVER at large truckload fleets decreased slightly in the first quarter of 2012 to 88 percent. Turnover among large truckload fleets had bottomed out at 39 percent in 2010. Economists believe the number will continue to rise due to government oversight programs and growing freight volumes.
Highway Angel saves a life with CPR
FTC Transportation driver Jonathan "Az" Atzenhofer was named a Truckload Carriers Association Highway Angel.
Atzenhofer was waiting for a restaurant to open at a truck plaza on Interstate 70 in Watkins, Colo., on Feb. 20. A second truck driver waited with him.
A man approached them, breathing heavily. They asked the man if he was all right. "I'm OK," he responded, then collapsed.
Atzenhofer began applying the chest compressions of cardio-pulmonary resuscitation while the other driver performed mouth-to-mouth CPR. They kept him alive until paramedics arrived.
A driver since 1988, Atzenhofer has aided other motorists. "I usually try to [help out] if it's safe for me to stop," he said. "In this case, I was just in the right place at the right time."
— Staff reports
FMCSA clarifies window tinting regs
The Federal Motor Carrier Safety Administration has confirmed to the International Window Film Association that window tinting is permitted on commercial motor vehicles.
In a Sept. 26 letter to FMCSA, the IWFA said "historically, the enforcement community and the trucking industry have clearly taken the position that 'no' film was allowed on any vehicle operated as a commercial vehicle."
The agency responded that such enforcement would have been contrary to regulations. FMCSA had published guidance that said trucks can use "clear" window films as long as at least 70 percent of the normal light is transmitted.
Anyone encountering an instance where compliant window films have been disallowed should contact the Office of Enforcement and Compliance, FMCSA says.
The Skin Care Foundation says ultraviolet radiation is associated with most skin cancers, which affects one in five Americans.
— Jill Dunn
Drivers voice EOBR concerns at listening session
The Federal Motor Carriers Safety Administration opened the floor to drivers so the agency could gather commentary about electronic onboard recorders and their alleged use to harass drivers. During a listening session in March at the Mid-America Trucking Show, many who spoke expressed disdain for not only use of EOBRs but the agency's intent, too.
FMCSA administrator Anne Ferro posed questions to drivers about their experiences with recorders and as to whether they could be viable options to produce both compliant and safe truck operators and flexibility, relative to concerns over limitations of hour of service regulations.
Jim Freeland, leased to Douglas and Sons of Statesville, N.C., complained that companies interested in selling EOBRs are behind much of the push for EOBRs, and that government regulators should "get an honest job."
"You can't regulate truck drivers," he said. "It's like trying to regulate bootleggers."
Owner-operator Ken Stewart and others said EOBRs are being used to harass drivers because dispatchers have real-time log book information yet lack other information about drivers' schedules, such as whether they are sleeping or need to sleep. "You as a professional know when you're fatigued, know when it's time to rest," Stewart said.
Jack McComb, an owner-operator leased to Landstar, said the accuracy of EOBRs, at least years ago when he used one at a different carrier, was terrible, partly because GPS signals are undependable. "Some days I could drive 14 hours before it would send me a message you've driven your 10 hours. Others days, I'd drive five to six hours, then get a message you've reached your limit, you have to pull over and park now. Once I was sitting in Salt Lake City, the system showed I was in Laramie, Wy. Those are not small errors – those are major errors."
Owner-operator Greg Petit said he's sat at docks for up to 14 hours while warehouse personnel did other tasks. "There's nothing that can't be loaded or unloaded in a two-hour period," said Petit, a 33-year trucking veteran.
"You all keep putting it on us, it's all our fault," he said. "Take on the real problem. Stop coming after us with this – not only with EOBRs, but with all of it."
McComb questioned why so much effort is put into ensuring truck drivers are safe when the emphasis needs to be on ensuring that four-wheelers are safe. "They're the ones causing 99 percent of the problems out there," he said.
Ferro acknowledged that while truck-related fatal crashes have fallen 24 percent in recent years, truck drivers are still at fault for some highway fatalities.
Todd Spencer, the executive vice president of the Owner-Operators and Independent Drivers Association, noted his concern over hacking and manipulation of EOBRs.
"Even government computers get hacked," he said. "I think EOBRs are easier for fleets to manipulate [than paper logs]," adding that practical application in the trucking industry is "a long way off."
— Staff reports
HIGHWAY HAPPENINGS
CALIFORNIA. A six-mile stretch of Highway 12 will be widened from two to four lanes between its intertchanges with Highway 29 in Napa County and Red Top Road in Solano County. The Napa County segment is scheduled for completion in 2013. The Solano County segment is scheduled for completion in 2015.
IDAHO. Congress approved a bill that would give the Idaho Transportation Department full power to set speed limits on state highways, taking away authority of towns to set limits on highways that run through city limits.
INDIANA. Due to a bridge replacement, Interstate 69 has a 14-foot width restriction in both directions 1.4 miles north of State Route 26 over Barron Creek. The project should be done by late October.
MARYLAND. A bill approved by the legislature would make it harder to increase toll rates, if Gov. Martin O'Malley signs off. The bill mandates that a 10-day warning be given to citizens before the Maryland Transportation Authority discusses toll or fee changes. A 10-day notice would also be required before any authority votes on toll changes.
NEBRASKA. Due to construction on I-80 between Exit 372 at Goehner and Exit 381 at Milford, eastbound and westbound single-lane closures will be scheduled day and night. A width restriction of 12 feet will be in place to accommodate bridge repairs. Completion is set for June. Lane closures and a 12-foot width restriction will be in place between Exits 324 and 338 for another project expected to be done in October.
NORTH CAROLINA. A diverging diamond interchange is being built on I-40 and will require widening a 4.2-mile stretch of Union Cross Road in Kernersville from Sedge Garden Road to U.S. 311. Completion is due for November.
PENNSYLVANIA. The House approved a bill that clarifies how public-private partnerships for transportation projects will work. H.B. 3 allows the governor to appoint a Public-Private Transportation Partnership Board to evaluate and decide infrastructure proposals. The public would retain ownership of such assets. A private entity would develop and finance such projects, which could be done via tolls.
TEXAS. The state approved new 80 mph speed limits on 54 miles of State Highway 130 and State Highway 45SE in Travis County. The governor also signed a bill allowing the Texas Department of Transportation to establish speeds of up to 85 mph on certain highways.
WEST VIRGINIA. Gov. Earl Ray Tomblin signed a bill banning texting while driving for all drivers, effective July 1. Officers will conduct primary enforcement of the law, meaning they can ticket a driver for texting without any other traffic offense occurring.
Daimler recalls 9,800 trucks
Daimler Trucks North America has notified the National Highway Traffic Safety Administration that it is recalling select vehicles from three 2012 truck models for two separate defects.
DTNA is recalling 8,747 model year 2012 Freightliner Cascadia and Western Star 4900 vehicles manufactured from Dec. 22, 2011, through Feb. 23 because the vehicles may be equipped with driver's seat bases that may have out-of-specification welds that allow the seat to buckle unexpectedly. DTNA says an unexpected movement of the seat could affect vehicle control and visibility.
DTNA will notify owners, and vehicles will have replacement components installed for free. The recall is expected to begin this month; owners can contact DTNA at (800) 547-0712 and specify campaign number FL-624.
DTNA also is recalling 1,046 model year 2012 Freightliner Business Class M2 and Cascadia vehicles manufactured from Jan. 20 through Feb. 17 because the vehicles may have been assembled with a steering wheel nut that may not provide the clamp load required to fully seat the steering wheel on the steering shaft. DTNA will notify owners, and affected vehicles will have a new steering wheel nut installed for free. The safety recall is expected to begin this month; owners can contact DTNA at (800) 547-0712 and specify campaign number FL-623.
— Linda Longton
Broker sentenced for defrauding carriers
A California broker who continued defrauding carriers even after being indicted for it has been sentenced to 10 years and 10 months in prison.
On March 28, U.S. District Judge Lawrence K. Karlton of the state's Eastern District delivered the sentence to Kulwant Singh Gill, 53, and ordered him to pay $443,388 in restitution to his victims.
The Antelope resident owned and operated companies authorized to transport freight and to broker interstate loads, according to a federal justice department release. During 2004 and 2005, Gill applied for motor carrier broker licenses using false names, Social Security numbers and driver's license number.
He used Internet load boards to find freight and would offer to transport loads for a fixed price. Gill then would repost the loads on the same website or other sites, acting as a broker seeking another company willing to transport it.
In more than 100 instances, Gill allowed trucking companies to make the deliveries and received payment from the original brokers, who believed Gill had completed the deliveries himself. He then would refuse to pay the carriers that actually transported the freight.
A grand jury originally indicted Gill in 2006, but he continued the scheme during pretrial release, which led to the 2008 indictment. He pleaded guilty in 2009 to charges involving the scheme in two separate indictments. In total, Gill was convicted on eight counts of wire fraud and five counts of making false statements to a government agency.
The court also ordered Gill to enter a 500-hour Bureau of Prisons substance abuse treatment program and to be placed on 36 months probation following completion of his sentence.
— Jill Dunn
SHORT HAULS
THE U.S. HOUSE introduced legislation in March that would repeal the 12 percent excise tax on new truck and trailer purchases and replace it with a 6.4 cents per gallon increase in diesel fuel. The Heavy Truck Tax Fairness Act was designed to help Congress find new revenue sources to meet infrastructure needs, says the bill's co-sponsor, Rep. Earl Blumenauer (D-Ore.).
Third Mexican carrier gains authority
The Federal Motor Carrier Safety Administration has granted operating authority to a third Mexican carrier and has filed its final brief in ongoing litigation over its cross-border pilot program.
As of April 5, Baja Express became the third carrier to receive authority. Like the second participant to receive authority, Moises Alvarez Perez, Baja also has one truck, one driver and has not traveled beyond the border zone.
Transportes Olympic, which has one truck and two drivers, has crossed 15 times since the program began more than five months ago.
Operating authority is pending for an additional 15 carriers, of which two have completed the Pre-Authorization Safety Audit required for participation. However, one of the two withdrew after the Owner-Operator Independent Drivers Association raised issues over its safety record.
OOIDA filed its final reply brief April 4 in its U.S. 9th Circuit Court of Appeals lawsuit to stop the program. The court has said a similar lawsuit filed by the Teamsters, Public Citizen and Sierra Club will be argued on the same day before the same panel, but oral arguments have not been scheduled.
OOIDA says FMCSA lacks legal authority to accept Mexican carriers because they are not compliant with federal regulations. Mexico's CDLs, medical certificates and drug testing standards do not meet American standards and therefore are non-complaint, it said in its reply.
FMCSA's April 2 final brief asserts OOIDA's members lack standing in the case because they are neither eligible for the program nor regulated by it and have not demonstrated proof of substantial harm.
Members would not be caused to lose business "because the vast majority of the cross-border deliveries are likely to be made in commercial zone," the brief says, and because Mexican carriers are prohibited from making point-to point deliveries of domestic freight.
The Teamsters' most recent case filing was its March 7 counter-arguments to the FMCSA's stand that the pilot program does not include a representative sample of trucks domiciled in Mexico, as required by law.
— Jill Dunn