Kenworth unveils aerodynamic T680
Kenworth's new Model T680 features a sculpted full-height roof, optimized bumper and hood, full-height side extenders, cab/sleeper-to-fairings closeout panels, chassis fairings extenders and flush-mounted lighting.
Compared with similar models, it has a 10 percent enhancement in aerodynamics, 65 percent more storage capacity, a 50 percent larger windshield, 40 percent less interior noise, 30 percent larger door openings and best-in-class forward lighting, the truck maker says.
The T680 is designed to maximize performance in line-haul, pickup and delivery and regional operations. Available with a new 76-inch sleeper or as a daycab, the T680's standard engine is the 2.9-liter Paccar MX. The Cummins ISX15 is optional.
The truck's cab is 83 inches wide with 23 inches of space between the seats. Premium Diamond VIT and Vantage trim levels are available for the interior, with two color options of Sandstone Tan and Slate Gray.
Executive Editor Jack Roberts took the new Kenworth for a test drive in Louisville, Ky. Here's some of what he had to say about the tractor's interior:
My test-drive truck was a regional-cab tractor with an MX13 engine and an Eaton 10-speed manual gear box. Kenworth's all-new seat design features an advanced air-suspension system and multiple lumbar and recline adjustments. Combined with the new tilt/telescoping steering wheel, the overall design makes it easy to get comfortable quickly.
Another nice touch is the redsigned dash board. If there's a theme here, it has to be simplicity. Truck dashes have become crammed with competing information systems that can be difficult and distracting to operate, but everything in the T680's cab is laid out logically and ergonomically. Critical engine and vehicle data are arranged in the new A cluster directly in front of the driver, with auxiliary controls and switches within easy reach on the center cluster. Toggle switches glow green when activated to allow drivers to tell at a glance if they're on.
For Roberts' full review of the tractor, visit OverdriveOnline.com/kenworth-test.
KENWORTH TRUCKS, kenworth.com
Cummins 15-liter natural gas engine
Cummins is developing a 15-liter spark-ignited natural gas engine for on-highway applications.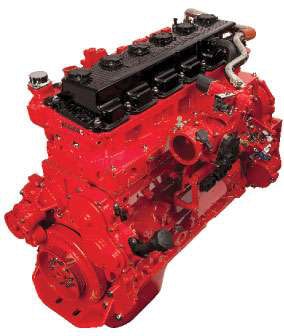 The ISX15 G will be based on the ISX15 diesel, and its three-way catalyst will not require exhaust aftertreatment. Expected to be in limited production in 2014, the engine will run on compressed natural gas, liquefied natural gas or biomethane.
Cummins also unveiled a prototype of its advanced waste heat expander. The system can reduce fuel consumption by up to 6 percent, the company says, delivering fuel savings of between $4,000 (typical heavy-duty cycle) and $40,000 (typical high-horsepower cycle), depending on the application and engine power.
CUMMINS, cummins.com
Ingersoll trailer suspensions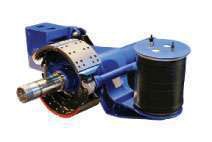 The Ingersoll Suspension System has been years in the making, the company says, and features an I-beam trailing beam design, a fully wrapped axle connection and standard parts to help maintenance needs. The line includes 15 different trailer suspension designs offered in conjunction with its full line of axles, which include standard, drop-center, steerable, in-line and other configurations.
INGERSOLL AXLES, ingersollaxles.com
Daimler releases Detroit Transmission
Daimler Trucks North America's new Detroit Transmission completes the manufacturer's goal of full powertrain integration to complement its Detroit axle and heavy-duty-engine offerings.
The Detroit is a 12-speed direct or overdrive automated transmission. It employs a traditional clutch-actuated manual gearbox with high-speed computer-controlled shift and clutch actuators that automatically select shifts for optimal fuel economy and power. Additional features include the Hill-Start Aid option to prevent rollback standing still on a hill; enhanced cruise control and improved dash display; shift lever with gear, auto/manual mode and brake selection; improved in-cab ergonomics; and driver selectable shift modes for performance or economy.
DETROIT DIESEL, detroitdiesel.com
Mack integrated powertrain
Mack's new Super Econodyne powertrain package integrates the company's C125 overdrive rear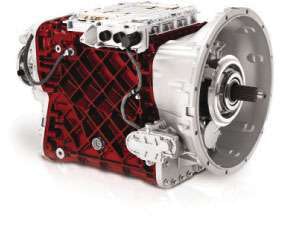 axles, MP8 engine and mDrive transmission. The system is designed to down-speed the engine by about 200 rpm at highway speeds. At 65 mph, the engine will cruise at 1,160 rpm.
Also introduced was the Pedigree Powertrain label, which describes a powertrain that includes a Mack engine, transmission and rear axles. Trucks that feature a Pedigree Powertrain will sport a gold bulldog hood ornament.
MACK TRUCKS, mactrucks.com
Great Dane Trailers fight corrosion
Great Dane Trailers' new lines of dry vans, reefers and flatbed trailers feature updates aimed at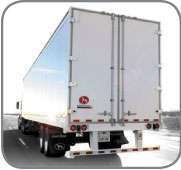 fighting corrosion from new road chemicals used in cold weather.
Now standard on its dry vans are EnduroGuard rear frames with redesigned aluminum bottom rails fastened with aluminum rivets on I-beam cross-members. Galvanized steel roof bows, composite swing-type rear doors with dual-seal gaskets, galvanized steel skins and a polymer core complete the frames. The company's reefers offer similar rear frame upgrades.
All of the company's trailers, including the Champion dry van line, Freedom flatbed line and Everest line of reefers, also come equipped with Stemco Platinum Performance Plus wheel end systems with a 6-year warranty and Grote Micro Nova LED lamps. New optional equipment is available, including Alcoa aluminum wheels, a lightweight package and corrosion-fighting undercarriage upgrades.
Great Dane Trailers, greatdanetrailers.com
Michelin drive tire, wide-single retread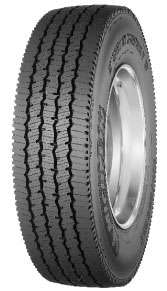 The SmartWay-verified Michelin X Multi Energy D drive tire delivers enhanced fuel efficiency, optimized traction and long tread life, the company says. It's designed for regional and the emerging super-regional applications.
The all-weather drive tread design now available in the X One XDN2 Pre-Mold retread delivers weight savings and fuel economy to operators who also want the traction of a lug-style tread. The tread is only available on Michelin X One casings. The tire also qualifies for the Michelin on Michelin Guarantee, which pledges 30 percent more mileage than competitor retreads and a second X One trailer retread on a Michelin casing.
MICHELIN, michelintruck.com
FUELite Tandem Axle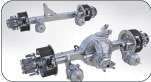 Meritor Inc.'s FUELite tandem axle is the first member of the company's SoloDrive Series of 6-by-2 tandem rear axles. Based on the Meritor 160 series drive, the FUELite axle is designed to deliver nearly 400 pounds in weight savings and a 2 percent increase in fuel efficiency when compared to a traditional 6-by-4 configuration, the company says.
Features and benefits include Meritor's 160 DualTrac housing, which allows for the option of running either wide single tires or duals, a 2.50 to 4.10 ratio range available to match the application and a 12.7-millimeter-wall housing compatible with all current 40,000-pound tandem air suspensions.
MERITOR, meritor.com
Utility double-deck loading system
Utility Trailer Manufacturing's new optional double-deck loading system for dry vans is designed for maximizing trailer cube space and increasing overall freight capacity. It can support up to 500 pounds per square foot with a 26,000-pound total rating.
It utilizes a system of tracks and beams to create a second deck to increase freight capacity without exceeding allowable weight limits. It provides different configurations for freight of different shapes and sizes. The K2 Kaptive Beam System manufactured by Kinedyne Corp. underpins the system, made of aluminum and engineered to add minimum weight without compromising durability or deck strength. A spring-loaded mechanism automatically locks to the beam, securing it to the track slots.
UTILITY, utilitytrailer.com
Belt-driven reefer units
Carrier Transicold's Vector Hybrid and X-2 belt-driven refrigeration units are designed to improve operating efficiencies while also incorporating emissions control reduction technology to meet U.S. Environmental Protection Agency Tier 4 standards. The units feature "micro-channel" heat exchangers that require less compressor-head pressure to force the refrigerant through the system, and the thinner coils require less horsepower from the fans. Noise is reduced, in part because of the reduced power needed from the fans.
CARRIER TRANSICOLD,
All-in-one recorder
Continental's RoadLog includes an integrated printer that allows the driver to print daily and weekly hours-of-duty status records that mimic a paper log. A USB "driver key" enables easy digital data handoff to a compliance manager. The device warns drivers with a visible and audible signal if they are approaching hours limits. In addition to hours recording, the RoadLog is functional for Driver Vehicle Inspection Reports, International Fuel Tax Agreement records and the International Registration Plan. The device is DOT-compliant. Production begins in June.
CONTINENTAL, conti-online.com
Alliance aftermarket fuel tanks

Alliance Truck Parts introduced aftermarket cylindrical fuel tanks offered with an online configuration tool. The tanks are targeted primarily to truck owners and fleets in need of a replacement tank after a wreck or those looking for an upgrade from their original equipment, the company says. The online configuration program, available at alliancetruckparts.com, allows customers to specify truck make, tank capacity, finish and fill-neck placement, then supplying a corresponding part number. A printable ticket can be taken to any Freightliner, Sterling or Western Star dealer, though the tank is compatible with all truck makes.
ALLIANCE TRUCK PARTS, alliancetruckparts.com
Lightweight air spring components
Firestone Industrial Products' next-generation air spring technologies include lighter-weight components and the Airide Integrative Air-Damping System. The air ride system offers a lightweight alternative to cab-mount suspension applications, providing the functionality of an air spring and shock absorber in a single part.
The system includes an exterior bellow made of natural rubber that encompasses a proprietary, shock-absorbing module. Firestone says preliminary testing indicates a notable reduction in the transmission and frequency of vibration compared to traditional air spring/shock absorber or air spring/hydraulic damper configurations.
FIRESTONE, firestonetrucktires.com
Ecopia fuel-efficient tires
Bridgestone's Ecopia fuel-efficient tires are designed to reduce overall tire wear costs up to 29 percent by fostering retreading. Five tires in the Ecopia series will be complemented with equivalent Bandag FuelTech retreads to reduce life cycle costs.
The line's NanoPro-Tech polymer technology helps control particle movement by bonding the carbon black in the tread, which reduces flexing and related energy loss. The Fuel Saver sidewall compound runs cooler, saving more energy, the company says. In addition, the IntelliShape sidewall, found in both the M710 Ecopia drive radial and R197 Ecopia trailer tire, contain less bead filler volume, which reduces tire weight, improves fuel economy and conserves resources.
BRIDGESTONE, bridgestonetrucktires.com
Bendix SmarTire Monitoring System
Bendix Commercial Vehicle Systems plans to release SmarTire Tire Pressure Monitoring Systems for trailers this fall in retrofit kits. A typical kit would comprise eight wheel sensors, harnessing and a wireless receiver. The company also intends to make SmarTire TPMS available to original equipment trailer manufacturers. SmarTire TPMS monitors the pressure and temperature of each tire on a trailer to provide real-time tire status information and warn the driver of tire-related problems.
When paired with SmarTire for tractors, the SmarTire trailer system will link wirelessly with the trailer. The system will display the data provided by sensors monitoring the trailer tires on the existing TPMS display.
SMARTIRE SYSTEMS, smartire.com
All-aluminum drop-deck trailer
East Manufacturing has created an all-aluminum drop deck trailer, designed for increased payload versatility and better stability, with a low-slung 36-in. deck height. The 36-in. drop-deck height gives the trailer a lower center of gravity, providing the trailer with improved stability. It is available in multi-axle configurations and lengths up to 53 feet.
EAST MANUFACTURING, east mfg.com