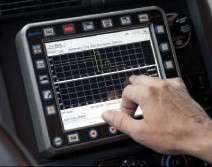 Although the Commercial Vehicle Safety Alliance examined electronic onboard recorders and speed limiters at its workshop last week, it does not know yet when it will make a formal recommendation on the devices.
CVSA Executive Director Stephen Keppler said the association's executive committee recently had obtained results of its member survey on EOBRs at its April 26 meeting. That committee likely will release these findings and CVSA work on EOBR training to the Federal Motor Carrier Safety Administration before or immediately after the association's annual mid-September meeting.
FMCSA held an EOBR listening session at the annual CVSA workshop in preparation for issuing a Supplemental Notice of Proposed Rulemaking on the devices and hours-of-service supporting documents.
Last month, FMCSA listed Feb. 13 as its target date for publishing the SNPR, although agency representatives indicated it could be this year, Keppler said.
The Driver-Traffic Enforcement Committee also discussed EOBRs at the workshop. Members talked about the inconsistency of the technology resources for enforcement officers across jurisdictions, which may be limited to pen and paper in some locations. Agency officials should account for this variance in when issuing a future EOBR rule, he said.
Confusion exists in enforcement and trucking regarding recording devices, partially because, while there is no longer an EOBR rule, an agency rule regarding automatic onboard recording devices has existed since 1988.
The association believes the agency's 2010 final rule, which had mandated EOBR for carriers with significant HOS violations, did not take some of the association's enforcement suggestions into account, Keppler said.
The Owner-Operator Independent Driver Association petitioned for judicial review of the rule, which the 7th Circuit Court of Appeals overturned last August. The court returned the rule to the FMCSA mainly because the agency had not included safeguards to protect drivers from harassment from carriers.
The DIT committee also was updated on the outlook for EOBR in Canada. On May 2, the Canadian Trucking Alliance announced it was continuing its campaign to nationally mandate the devices.
Keppler said the executive committee does not expect to have formal comment on speed limiters until the National Highway Traffic Safety Administration publishes an NPR, which it has recently indicated could be by Aug. 30. The American Trucking Associations and Roadsafe America petitioned the agency for the requirement, which OOIDA opposes.
Ontario and Quebec requires speed limiters for most large trucks.