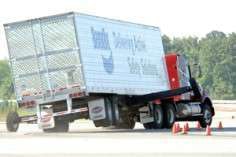 The U.S. Department of Transportation's National Highway Traffic Safety Administration announced Wednesday, May 16, a proposed federal motor vehicle safety standard to require electronic stability control systems on large commercial trucks, motorcoaches, and other large buses for the first time ever.
Agency research shows the technology could prevent up to 56 percent of rollover crashes each year—the deadliest among all crash types—and another 14 percent of loss-of-control crashes.
"The Department and the National Highway Traffic Safety Administration have long recognized the potential impact of stability control technology in reducing deaths and serious injuries that result from rollover crashes," said Transportation Secretary Ray LaHood. "Today's proposal is a major step forward to improving the safety of large commercial trucks, motorcoaches, and other large buses."
An extensive NHTSA research program to determine how available stability control technologies affect crashes involving commercial vehicles found ESC systems to be the most effective tool for reducing the propensity for heavy vehicles to rollover or lose control.
With sensors that monitor vehicle movement and steering, ESC can help mitigate rollover incidents by using automatic computer-controlled braking, and also aid the driver in addressing severe understeer or oversteer conditions that can lead to loss of control. NHTSA estimates that a standard requiring ESC on the nation's large trucks and large buses would prevent up to 2,329 crashes, eliminate an estimated 649 to 858 injuries and prevent between 49 and 60 fatalities a year.
While many truck-tractors and large buses can currently be ordered with this technology, the proposed standard would require ESC systems as standard equipment on these types of vehicles. As proposed, the rule would take effect between two and four years after the standard is finalized, depending on the type of vehicle.
The agency's Notice of Proposed Rulemaking is being published in the Federal Register and members of the public will have the opportunity to comment on the proposal for 90 days. NHTSA will also hold a public hearing on the proposed safety standard to solicit further public comment—the date and location of that hearing will be published in the coming weeks.