Lucky 13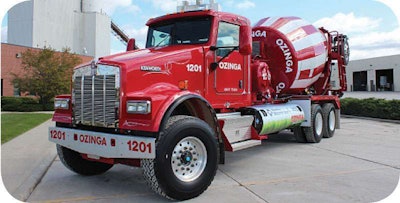 Ozinga Ready Mix drivers report plenty of power, responsive shifting from Cummins-Westport natural gas-powered Kenworths.
Chicago-based Ozinga Ready Mix Concrete has replaced 13 mixer trucks working from its Chinatown Plant near downtown with Kenworth's compressed natural gas-powered W900S mixers. "Since city officials are trying to reduce emissions from trucks that operate in downtown Chicago, we thought placing all of our new CNG trucks in operation there would have the greatest impact," says Tim Ozinga, company spokesman.
The company's CNG-powered mixers were delivered late last year, spec'd with the 8.9-liter, 320-hp Cummins-Westport ISL G engines, six-speed Allison 4500RDS automatic transmissions and McNeilus Bridgemaster mixer bodies.
The company has plans to install a time-fill fueling station at the Chinatown plant as it replaces more of its diesel-powered mixers with new Kenworth CNG-powered units.
"Drivers have told us that they're responsive, shift fast and provide good power," says Ozinga Fleet Manager Pete Huisenga. "They also tell us the engines are remarkably quiet and the truck interiors are very comfortable."
The price premium for CNG truck technology, Ozinga estimates, will be returned in 2.5 years, given that natural gas cost has been consistently around $1.50 less than the diesel gallon equivalent. For a company that relies on residential rehab and construction projects for 50 percent of its business, that might seem a risky investment, but Ozinga is positioning itself for the future.
"More and more homeowners and small businesses are looking to source their concrete from companies that can demonstrate a commitment to a greener operation," says Ozinga. "Contractors are also looking for suppliers who can help them with improving their chances for meeting certification requirements for the Leadership in Energy and Environmental Design Green Building Rating System."
TALES OF TWO SUPER-HEAVY HAULS
1.5 million pounds up a 7% grade
In 2011, Perkins Specialized Transportation launched the biggest series of hauls in its history. The Northfield, Minn.-based 22-truck heavy-haul fleet transported four steam generators from a power plant in California to a long-term storage site in Clive, Utah. Each generator weighed in at 804,000 pounds and measured 47 feet long by 15 wide by 14 feet 9 inches high.
Each rig stretched 399 feet with a gross combination weight of 1.5 million pounds, or 750 tons. Rolling along 960 miles of roads and freeways that included a 15-mile trip up a 7 percent grade of Interstate 15 through California's Cajon Pass, the hauls were the culmination of two years' worth of planning. A trailer for the move occupied two lanes of highway in operation.
Then there are the trucks. Three Mack Titans handled each load, two pushing and one pulling. Customized in Mack's New Vehicle Options Center (popularly known as the Mod Center) in Macungie, Pa., two of the models featured 605-hp Mack MP10 engines, 4-speed auxiliary transmissions and rear-engine PTOs to run the hydraulics. Also: triple frame rails, 70,000-lb. planetary rear ends, customized front-frame extensions and modified interiors.
"We worked with the Mod Center to build a Titan of Titans, a tractor that can pull upwards of one million pounds – with some help, of course," said Bob Nuss, president of Nuss Truck & Equipment, which sold the units to Perkins.
"That's one of the reasons Mack is here," said company President Neil Perkins. "The job requires the right tools and equipment. We have to plan exactly how the equipment will be spec'd. This isn't something we want to do every time a new truck comes out. Mack was willing to make changes to the tractor that met the challenges of our business."
Need a 340-ton boulder moved?
Just as the April issue of Overdrive was going to press, featuring the story of Emmert International's move of two massive coke drums on custom-designed trailers "Lewis" and "Clark," news came down about another unique Emmert haul. The company was featured on American Public Media's Marketplace radio program for their work hauling the raw material for one massive rock show – Levitated Mass, a sculptural installation piece conceived by Michael Heizer and bound for the Los Angeles County Museum of Art.
For the hauling, Emmert utilized three trucks (one lead and two pushers) to tote the boulder slowly – and only at night – into L.A. and along the city's streets. The 60-mile trip took 10 days.
To give you an idea of the kind of time and mpg the combined unit was making as it crawled along, as company founder Terry Emmert told Marketplace reporters, "I'd say we're probably getting about 15 gallons per mile. We're doing about 8 to 10 miles a night.
If you can believe it, the total price tag for purchasing, moving and installing the boulder once all the work is done is estimated to come in around $10 million – the bill footed by private LACMA donors.
Severe Service Equipment and News
Standard onboard scale uses touchscreen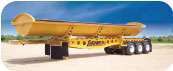 On-board scale manufacturer Air-Weigh's QuickLoad Trailer

Scale now comes standard on all Sidump'r trailers. The QuickLoad scale features an icon-based touchscreen display showing weight on the axle group within 300 pounds to avoid overloading and enhance trailer longevity. The screen also gives access to Settings and the Alarm feature.
The scale itself is configured with an LED alarm lamp that indicates the user-set threshold for maximum load, allowing accurate loading without the driver ever leaving the cab. Sidump'r reps cited a growing diversity of products hauled by its customers as the need for a standard tool of the type offered in the QuickLoad scale. Sidump'r, sidumpr.com
Rugged, lightweight mixer

Navistar's Continental Mixers' new lightweight integrated mixer utilizes proprietary high-strength steel formulated for concrete mixers. The new design will deliver a nearly 2,000-pound weight savings compared to comparably spec'd 10.5-yard mixers. Optional ZF gearbox integrates the hydraulic pump in the gearbox housing. They're available on International WorkStar (pictured) and PayStar chassis. Continental Mixers, continentalmixers.com
Machine mover

Haul heavy road-building equipment with either of Rogers' Blacktop Series' two new trailer designs: the Gentle Riser (pictured) or the Sloper. The Riser features a 16-degree angle of incline from the deck to the rear frame and is available in 35- to 60-ton capacities with 22 to 28 feet of deck. Optional features include a 20-inch loaded deck height and a three-foot rear ledge with a bumper stop.
The Sloper's continuous, five-degree and extra-long sloping deck contains a rear extension and makes it easy to haul two pavers in a single move. It's available in capacities up to 140 tons. Both units feature a self-lifting gooseneck and self-aligning beam hook connection.
Rogers Trailers, rogerstrailers.com
Tire survives severe punishment

Mid-America Trucking Show attendees drove 367 nail holes into a Goodyear G394 SST wide-base trailer tire at the tire manufacturer's booth — without any

impact on inflation. Puncture-sealing DuraSeal technology built into the tire prevented it from losing inflation pressure, results that company spokesman Tim Miller called "eye-popping." The industry's only OEM built-in tire sealant, which works on punctures up to a quarter inch in the tread area, is available for drive and trailer tires for over-the-road applications, plus in all-position tires for mixed service and waste-haul applications.
Goodyear,
NEWS IN BRIEF
Daimler Trucks North America designated the Bendix EverSure ADB spring brake as standard on wheel-ends outfitted with Bendix ADB22X-V air disc brakes and utilizing spring brakes. DTNA made the designation for all but a few specialty applications.
Released in 2011, the EverSure ADB provides double-diaphragm spring brake technology, delivering corrosion resistance, extended service intervals and increased force output when compared to competing double-diaphragm units, Bendix says.
Visit daimler-trucksnorthamerica.com and bendix.com
Jacobs Vehicle Systems has developed its first natural gas engine brake for the Cummins ISX12 G. The new engine brake will be available in 2013.
Visit www.jacobsvehiclesystems.com
Kenworth offers the Cummins ISX 11.9 engine with a rear engine power take-off (REPTO) option for concrete ready mix, construction, crane, cherry picker, mining and oil well field service and other vocational applications. The REPTO can help eliminate the need for a front-mounted or transmission-mounted PTO, simplifying charge air cooler and radiator design requirements. The Cummins ISX11.9 with REPTO is capable to 466 lb.-ft. of continuous torque and a maximum rating of 520 lb.-ft. torque when used for intermittent load applications. The manufacturer also has added the Neway ADZ rear air suspension from SAF-Holland for heavy and severe duty applications.
Kenworth opened a new facility to service oil and gas industry customers at 5259 South 5400 East in Naples, Utah. The dealership features six service bays.
Visit kenworth.com
Navistar introduced private-label International brake drums. The drums are built to SAE and ASTM standards. Results include weight savings of 2 to 4 pounds per drum and improved heat dissipation when compared to traditional designs.
Visit navistarpartsandservice.com
In addition to a standard 12-month/100,000-mile limited warranty, SelecTrucks' new pre-owned truck certification will include a 30-Day Satisfaction Guarantee. If the owner is unsatisfied with the used truck, SelecTrucks will exchange it for another within 30 days of purchase.
Visit selectrucks.com
Shell Lubricants' new My Miles Matter loyalty program allows members to earn reward miles by purchasing select Shell Rotella products and services. Those miles can then be redeemed for rewards, including gift cards to popular restaurants and retailers as well as merchandise geared towards truckers and their interests.
Visit mymilesmatter.com
Tough transmission, tough trucks
The Eaton UltraShift Plus Vocational series automated transmission is now available for the Freightliner 114SD equipped with the Detroit DD13 engine and the Coronado SD (pictured) with up to 600 hp/2,050 lb.-ft. of torque.
For low-speed maneuverability on challenging worksites, the UltraShift Plus is the ideal transmission choice, Freightliner says. Through extended low and reverse gear ratio coverage, it provides the lowest ground speed for curbing, creeping, spreading and paving. It's also suited to highway construction and dump operations.
The patented shift logic and controls within every UltraShift Plus constantly adapt based on changes in weight of load, grade and power, making adjustments to maximize efficiency.
Features include Hill Start Aid; auto neutral, which automatically switches the transmission into neutral once the parking brake is engaged; automatic, manual and low modes to enhance driver control; and optional creep mode to maintain constant ground speed.
Freightliner Trucks, freightlinertrucks.com
Eaton, roadranger.com
Low-cab-forward severe-duty truck
BY JACK ROBERTS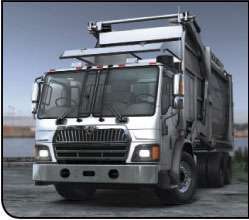 The new International LoadStar low-cab-forward severe service truck, unveiled in March at the Mid-America Trucking Show in Louisville, Ky., is all new from the ground up, said Jim Hebe, Navistar vice president of North American Sales.
Though it shares many components with existing International vehicles, most notably the WorkStar, the new model is designed for applications such as waste hauling, concrete-pumping and aircraft refueling.
Drawing on feedback from drivers and fleet personnel, the new truck's designers "optimized the space in the cab, increased seat and steering wheel movement and adjusted joystick placement to deliver an outstanding ergonomic and customizable work environment," Hebe said.
He pointed to optimized and body-builder-integrated control placements that put comfort on a par with dependable power — MaxxForce Cleanburn diesel emissions technology will underpin engine options, and a natural gas-powered version will be available early next year.
Key exterior features include a stainless steel cab to minimize corrosion and increase durability in the field, vocationally designed variable-depth frame rails for reduced weight and frame rail heights and improved ride characteristics.
The truck will be available for order this year, with production beginning in 2013.
International Trucks, internationaltrucks.com
Innovative drivetrain for extreme hauls
Volvo Trucks extended its award-winning XE drivetrain offerings to a package based around its 16-liter Volvo D16 engine (pictured in a Volvo VNL630). The drivetrain is designed specifically for the North American heavy long combination vehicle (LCV) market, with weights up to 143,000 lbs.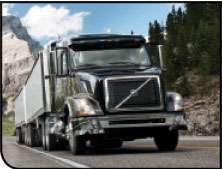 This one (of two new XE16 powertrain packages) delivers the full power and low-end torque needed for higher weight applications while downspeeding the engine at cruising speeds by 200 rpm or more. For instance, downspeeding from 1,425 to 1,225 at 62 mph yields a 3 percent fuel efficiency improvement, the company says.
Each new package utilizes a D16 engine rated at 500 hp with 2,050 lb.-ft. torque, a Volvo I-Shift automated mechanical transmission, heavy-duty suspensions, rear axles with a 3:21 ratio instead of the 3:73 rear axle often specified on North American LCVs, and proprietary software that facilitates seamless communication among Volvo's integrated powertrain components. The full 2,050 lb-ft. of torque is available while running as low as 1,000 rpm.
Volvo Trucks, volvotrucks.com
Trailer has 24-foot deck

The Fontaine Magnitude 35 heavy-haul trailer is equipped with a 24-foot clear deck length and a loaded deck height of 20 inches, leaving 6 inches of ground clearance. A built-in storage compartment has a lockable cover, and bogie can be ordered with an optional beavertail and spring-assisted rear ramps.
Fontaine Trailer, fontaineheavy-haul.com
Tough tablet

Environmental exposure worries for your field computing device can be set aside with Panasonic's Toughpad A1, a 10-inch Android-powered tablet designed for use in rugged applications. The 10.1-inch multitouch, daylight-viewable screen makes for a capable interface, and the device has a military rating for drops and dust and water resistance. The unit is capable of 4G mobile broadband service as well as Bluetooth v2.1 and 802.11a/b/g/n WiFi and satellite GPS.
Panasonic, panasonic.com/toughpad