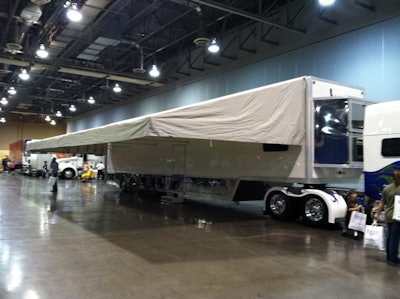 Wouldn't you enjoy having this at your next tailgate?
Or your next truck show and/or drag race — That's the way perennial Pride & Polish contenders Bill and Marie Sandvik put it to use.
This 53-foot transporter was spec'd, bought and fabricated by the Sandvik's son, Al Scibilia, who uses it to haul his self-made dragster to and from races and events. It's a double-decker with stairs up to the roof so users can watch drag races — or truck shows — in style.
The two are showing it at the Great West Truck Show behind their '98 Peterbilt 379, which you can see the rear of on the right-hand side of this photo. "It's the extreme comfort of truck showing," says Marie, who said her son also built and fabricated the legless 16-foot awning that jets out from the truck's side.
The inside has a lounge area with purple lighting, a kitchen and moon roof. It's real value, though, comes from the near-full shop in the trailer's back half, which is full of storage, tools, equipment and even clothing.
Scibilia even keeps a large, stainless steel grill in the back to keep he and his crew fed at their various outings.