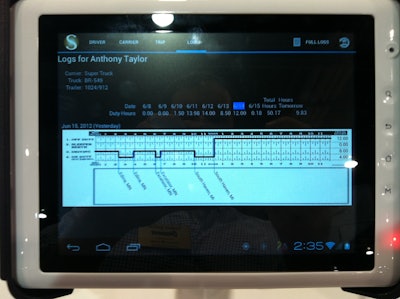 Sable Truck Systems — a new tablet-EOBR hybrid software company — is showing off its Android-powered tablets here at the Great West Truck Show in Las Vegas. And this isn't your typical EOBR.
The company (which was formerly TG Embedded Systems) was taken over by former owner-operator and small fleet owner Bill Taylor, who decided he wanted to design an EOBR after dealing unsuccessfully with one while driving for his former carrier.
Its tagline — By Truckers, For Truckers — is a testament to that. There'll be more on the specifics of the company's tablet/EOBR and its creation in the Overdrive Extra blog in the coming week, but Taylor said the ideas and features of the EOBR came to him while he was an owner-operator.
He says he wanted to make something easier for drivers to use and still be able to comply with any future EOBR mandates. Demo models are available at the show for attendees to test and play with.
Check the Overdrive Extra next week for more.