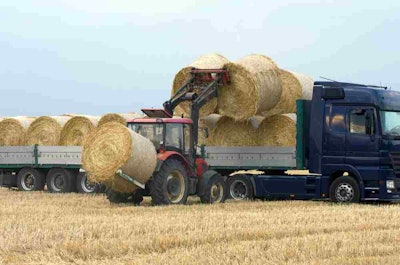 The year's record-dry drought has resulted in Arkansas and Kansas becoming the latest states to waive some trucking regulations for hay haulers.
Arkansas Gov. Mike Beebe declared a 30-day state of emergency Aug.3 to help state ranchers with critically low feed supply. The order temporarily authorizes special permits for transporting round bales of hay on controlled highways if the load is not wider than 12 feet.
The Arkansas Highway and Transportation Department has jurisdiction to select the safest routes for hay haulers. More information is available on the governor's website.
On July 26, Kansas Gov. Sam Brownback issued a 30-day waiver for those transporting hay for livestock and extended this allowance to those hauling hay to Texas and Oklahoma. The Republican governor lifted enforcements of regulations for these transporters regarding:
• Registration and fuel tax permits
• Licensing, certification and permitting rules and regulations
• Over-dimensional permit.
However, Kansas will enforce other restrictions, including barring these participating carriers from driving at night or during inclement weather. More information is available here.
Additional drought-ridden states that have lifted enforcement of some trucking regulations are:
Michigan suspended hours-of-service regulations for fuel transporters through Aug. 7, but because of a recent pipeline leak, not drought. More information is available on the state's website.
Last month, President Obama signed the long-term surface transportation bill, which contained new authority for states to issue special permits for overweight vehicles and loads that can easily be dismantled or divided in an emergency.
These special permits will become available Oct. 1.