I fell in love with Northern California. Mt. Shasta is possibly the most beautiful thing I've ever seen. We passed through several mountain ranges on the way out, I started saying "Wow!" in Western Texas and didn't shut my mouth or peel myself away from the window until Mt. Rainier in Washington. I saw more mountains in five days than I had in my entire life. The area between Grapevine, Calif., and Tacoma, Wash., is some of the most beautiful country I've ever seen. I could go on forever about Oregon, and I probably will at some point in time, but Northern California is where I fell in love.
We stopped at a Love's in New Mexico (another stunningly beautiful place — New Mexico, not the Love's) for fuel and bathroom breaks. I struck up a conversation with a lady in the bathroom (not in a weird way, we were washing our hands — I make a point never to talk to strangers through a bathroom stall unless there's an emergency, like a nuclear explosion or lack of toilet paper). Anyway, we made small talk about where we were headed, and I told her I was super excited about finally getting to California. She said she and her husband had just come from Northern California and suggested we stop in a place called Weed, and went on to tell me about a Pilot with one of the most incredible views she'd seen at at truck stop. I was enamored of the name alone and immediately wanted to visit.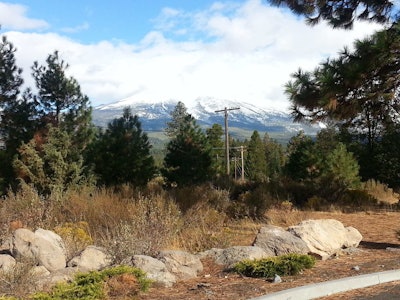 The planets aligned properly and it just so happened we were able to stop in Weed, Calif., for the night. Actually, Weed is where I had a nervous breakdown over lack of conditioner for my hair. In retrospect, I was really an ass for acting so ugly in such a beautiful place, but proper conditioning is pretty dang important to me.
The Pilot at exit 745 off I-5 in California does indeed have one of the most unique and beautiful views I've ever seen at at truck stop. Mt. Shasta fills the landscape, there are giant evergreen trees surrounding the sleep lot, and the town is named Weed. There's a little souvenir shop with pot leaves all over it, "I LOVE WEED California" t-shirts hanging everywhere. Medical marijuana is legal in California. The town clearly profits from the novelty to doofuses like me who think an "I LOVE WEED california" hat is awesome as hell, and will pay $12 for one. Ohio hasn't quite made the turn to profiting from medical marijuana; it's still criminal activity back home. Open references to Weed, be it the town in California or marijuana, are not commonly made.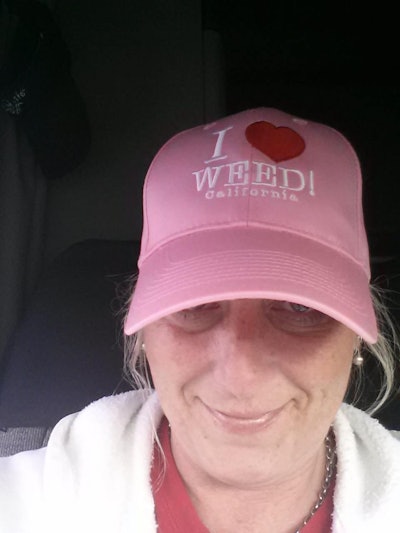 Believe it or not, that's not the coolest thing about Weed. It just so happens the area is a hotbed for bigfoot activity. It lies in the epicenter of sighting areas. There have been monsters reported for hundreds of years. I have it on good authority there are ruins of a log cabin built by Abraham Sasquatch Lincoln that lie in the very woods behind Pilot. (This may be a filthy lie.)
I wanted pictures of everything; it's one of those places you fill up a memory card in three hours. We went for a walk in the woods behind Pilot (I won't comment on whether or not we found any ruins) and searched for the perfect shot of Mt. Shasta.
There were several wooded paths and an old railroad track cut through the center of the area we were walking in. We opted to stick with the tracks. They were slightly elevated, giving us a vantage point. I was pretty sure we were going to run into a Sasquatch. George was pretty certain we were going to run into a bear. He kept making loud raawwrr noises.
"What the hell? You're going to scare away the bigfoot. Be quiet."
"I'm scaring away the bears, something we may actually run up on out here."
"Pfft. We aren't going to see a bear."
"Babe, we're in the woods in the Pacific Northwest during early fall. There's a distinct possibility we could come across a bear. You don't want to sneak up on a bear. And if we see one, don't run."
I just stared at him. Sometimes, it's like he never met me at all. If I saw a bear, I would run like my ass was on fire and he definitely knows it.
"What the hell would you suggest I do?"
"If it's a black bear, you lay on the ground in the fetal position and cover your head."
"Do you really think I'm going to take time to determine what color the damn thing is? I'm running."
"You're going to get eaten."
"Sasquatch will save me. He knows I'm friendly."
It was his turn to stare at me. I call this the "disappointed dad" look, and I get it more often than I would like to admit.
"What? Do I have a booger?"
"Yes. Yes you do. It's right behind your forehead."
"Oh haha, very funny. I'm not the one who suggested we offer ourselves up to marauding bears."
"No, of course not. How silly of me. You just suggested an imaginary character would save us from the very real threat of being attacked by a bear."
"No. I said he would save me. He probably won't like you very much. You should probably Google 'surviving Sasquatch attack' while you're lying in the fetal position waiting for a bear to eat your face off."
"I'm going to Google 'nearest insane asylum.'"
"Whatever you think works, but I doubt you get much info about surviving Sasquatch attacks Googling that."
"Google this."