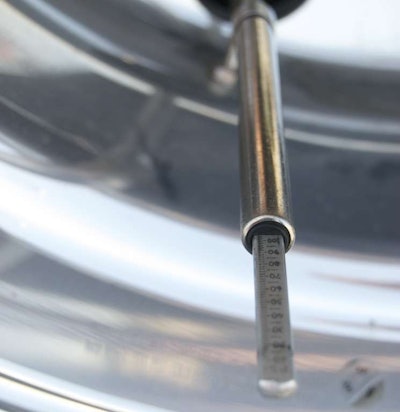 There's hundreds of dollars a year to be saved by careful tire management. These three areas will ensure that you get your money's worth for every tire – and boost fuel efficiency along the way.
MAINTAIN PROPER INFLATION. Improper inflation is by far the biggest reason why tires wear out prematurely. Daily pre-trip and post-trip inspections provide an opportunity to check pressures and also to look for leaks, punctures, broken valve stems or embedded objects. Apart from damage, tires still lose a pound or two a month from normal use.
PERFORM ROUTINE MAINTENANCE. Proper maintenance of tires, wheels, axles and the steering column will help keep your tire costs down. Wheels naturally lose alignment and balance. Bushings, shocks, bearings and valve stems wear out. Checking wheel alignment periodically can pay big dividends. Whenever you start seeing a heavy spot or a flat spot, the tire has ceased to be centered on the hub, and it's beading out of round. Whenever you need to scrap a tire, inspect it to determine why it failed. Where possible, take measures to prevent a recurrence.
EMPLOY GOOD DRIVING HABITS. Speeding, hard braking, curbing and tight turns cause tires to wear faster or develop irregular wear. On the other hand, steady acceleration, braking and steering can extend tire life. Many problems caused by bad driving habits show up as uneven tire wear. If you notice unusual shimmying or repetitive bumps, inspect your tires. Even absent rough driving, look for irregular tread wear in your daily inspections.