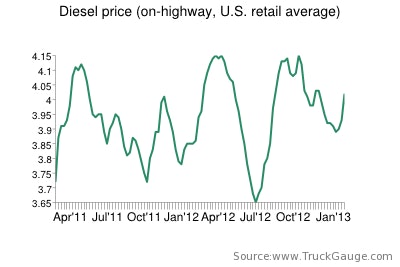 After small but steady notches downward in the last several months, the price of diesel shot up this week 9.5 cents to a national average of $4.022 cents, according to the Department of Energy's Energy Information Administration. The price had slowly been trending down to a near year-over-year plateau, but after this week's jump, the price remains nearly 20 cents higher than the same point in January of last year.
The 9.5-cent jump is the highest since August, when prices began a quick ascent from the summer's lows.
Moreover, the average price rose in all regions of the United States, and the price is above $4 a gallon in all regions but the Rocky Mountain region, the Gulf Coast and the Midwest.. For full regional trends, see Overdrive sister site CCJ's full report.