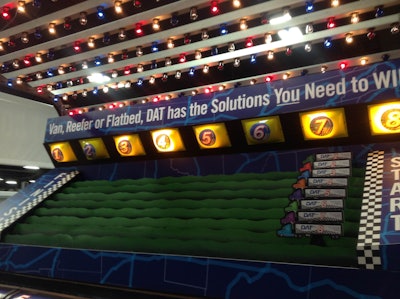 Check out the video below for snippets of ongoing competitive action at the DAT booth at the Mid-America Trucking Show in Louisville, Ky.
DAT is introducing today a big update to its free My Dat Trucker Services smartphone app concurrent with the show, says Product Manager Scott McCollister. Various functionality enhancements include moving app data from exclusive residence in the cloud to operators' devices. "Owner-operators will be able to find information from the app in an area where they don't have cell coverage," he adds. Other added services include the Hotels4Truckers.com directory of truck-friendly hotels and better fuel-price coverage in the truck stop database, likewise directories of truck-friendly such as emergency roadside service points and other providers.
Coming soon, said DAT Account Executive Scott Anderson, is an enhancement to its Truckload Rate Index tool called RateView (it will likewise be available integrated with the 3sixty Power load service for account holders) that will enable easy load searching/planning for trihaul routing strategies. "It combines the DAT load database with the hot markets map" tool in the Truckload Rate Index "to target the best backhaul lanes" with ease, said Anderson. Carriers will be able to more seamlessly spot markets where the load-to-truck  ratio for their application is in their favor to split up a return trip for greater profitability.
[youtube obGteNfM8eE&list=UUVb9_pwbvG99tK1apahFyIg&index=2 nolink]