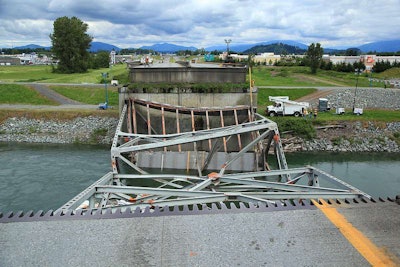 A report released by the National Transportation Safety Board written from preliminary accounts of the collision that caused the bridge collapse on Interstate 5 near Mount Vernon, Wash., over the Skagit River says that the top of an oversize load collided with an overhead portal and some sway braces on the far right side of the bridge's truss structure.
"The impacts caused significant damage to load-bearing members of the bridge's superstructure," according to the report, "resulting in the failure and subsequent collapse of the northernmost bridge span."
The driver said he felt "crowded," the report says, by a tractor-trailer passing on his left, so he moved to the right.
The report says, according to post-collision accounts, the driver reported that he thought the height of his load was 15 feet, 9 inches. The operator of the truck's pilot vehicle said his clearance pole was set at 16 feet, 2 inches, and it reportedly cleared the bridge.
However, the lowest portion of the bridge was reported to be just 14 feet, 8 inches, NTSB's report says.
The bridge was built in 1955 and some of its over-water trusses were "considered to be fracture critical," says the report.
The truck that hit the bridge was a 2010 Kenworth towing a 1997 Aspen flatbed witha casing shed. It was following a pilot vehicle heading southbound on I-5.
Click here to see the report.