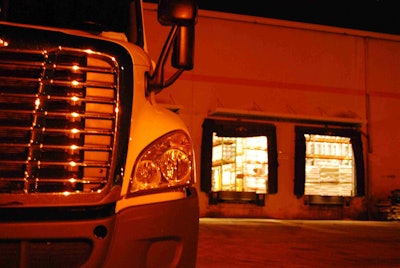 The Association of Independent Property Brokers and Agents appears to be taking a different route in its ongoing battle against the increase in the minimum bond amount freight brokers must carry — It's filed an application with the Federal Motor Carrier Safety Administration asking it to exempt all brokers from the increase.
A notice of an application for exemption was published in the Federal Register Dec. 26, and the agency is accepting public comment on the exemption application until Jan. 27.
The increase was required by the MAP-21 highway funding act passed last summer. It stipulated brokers must have a minimum $75,000 surety bond, up from the previous $10,000 minimum. FMCSA published a final rule requiring the $75,000 Oct. 1, with an enforcement date of Dec. 1.
Between Dec. 1 and Dec. 10, AIPBA said more than 8,500 brokers lost their operating authority due to the increase — About 35 percent of all federally licensed brokers.
The Transportation Intermediaries Association, another broker trade group, supported the increase, and one of its staffers, Chris Burroughs, told Overdrive earlier this month that while the bond increase may have played a role in the thousands of brokers who lost authority, the issue mainly stems from the registration database needing to be updated, he said.
The American Trucking Associations and the Owner-Operator Independent Drivers Association also supported the bond increase, with OOIDA saying it will protect carriers from fraudulent brokers.
AIPBA has been fighting the increase in court since July, when it filed a lawsuit against FMCSA trying to stop the bond increase. A federal court in December denied AIPBA's request, but AIPBA has appealed the ruling.
In its exemption application to FMCSA, it asks the agency to "permanently exempt all property brokers and freight forwarders from the $75,000 broker bond provision of MAP-21," according to the Federal Register notice.
AIPBA said in its request that the increase will force "the majority" of brokers out of the business, echoing what its president, James Lamb, told Overdrive earlier this month — that he thinks eventually 75 percent of brokers will lose operating authority because of the bond hike.
TIA, however, disagrees with that number, saying the impact on the broker industry will be minimal.
AIPBA also wrote in its application for exemption that the increase discourages fair competition in the transportation industry and will negatively affect rates, which the group says will lead to higher prices for consumers.
To comment, visit regulations.gov and find the rule using Docket Number FMCSA-2013-0513. Comments can also be made by mail (Docket Management Facility (M-30), U.S. Department of Transportation, West Building Ground Floor, Room W12-140, 1200 New Jersey Avenue SE., Washington, DC 20590-0001) or fax (1-202-493-2251).