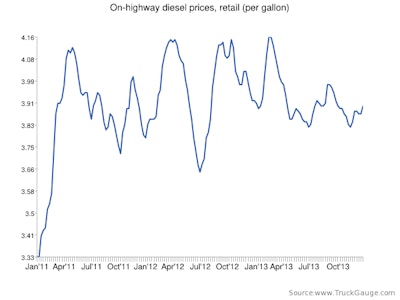 After a few weeks of mostly stagnation, the national average price of a gallon of on-highway diesel jumped three cents in the week ended Dec. 30 to $3.903 — within a penny of where the price averaged at the beginning of 2013 — according to the Department of Energy's Energy Information Administration.
Diesel in the week ended Dec. 30 hit its highest point in three months, coming in at just under 2013's average. The three-cent jump comes after a two-tenths of a cent jump the week prior.
The price of diesel in the last several months has been consistently at least a dime cheaper — sometimes as much as a quarter cheaper — than the same week in 2012. That gap, however, has closed in recent weeks, as the price of diesel is now just 1.5 cents lower than the same week in 2012 — making the 2013 calendar year about break-even for the cost of fuel.
Moreover, the average price rose in all regions in the U.S. in the week ended Dec. 30, led by 4-cent increases in the Midwest and the West Coast.
The California region still has the country's most expensive diesel, $4.104 a gallon, while the Gulf Coast region has the nation's cheapest, $3.789.