More new tricks for this old dog to learn.
The Precious is equipped with an inverter large enough to run three Sputnik satellites around the moon twelve times. This may be a filthy lie, but I swear to you if we do 88 miles an hour while it's on, we'll end up back in 1984. I believe the previous owner did some serious "modifications" to the capacity of juice being cranked out. There are things tucked underneath the bunk that glow like the holy grail when you lift it. If it wasn't so awesome to be able to run a refrigerator, toaster oven and coffee maker at the same time, I'd be afraid of the questionable amounts of power we've generated.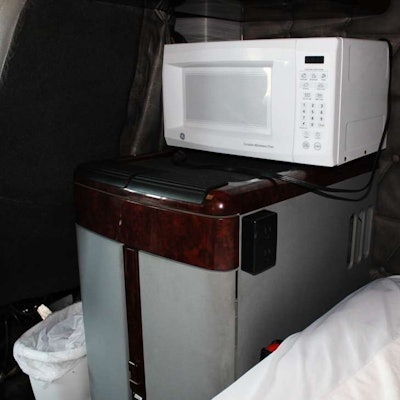 We also have a microwave, and I'm bringing the crock pot along, so I've got pretty much every appliance I use in my kitchen at home on the road with me. I'm hindered only by no running water, and even if we had running water in the truck, I doubt I'd tempt fate enough to use it in close proximity to the nuclear power plant we have under the bunk.
I'm so excited to be able to cook for us while we're out. How awesome will it be to ride down the road with the delicious aroma of crock-pot roast wafting around? I do worry about the slosh factor and the possibility of burning holes in things. (George just had a stroke reading that.) I'd appreciate any suggestions on using a crock pot in the truck without making a mess. Be detailed — remember who you're dealing with here.
Now if you'll excuse me, I'm going to lie on the magic bunk and have an out-of-body experience. If my hair and teeth start falling out, you'll know why.