Access Part 1 and Part 2 of the original 2014 series in which this primer on getting access to military was included via via those links. This story has been updated with current information as of March 21, 2023.
For owner-operators, there are three basic avenues to hauling freight for the U.S. military. The first two are the simplest:
Lease to a carrier already doing business with the military. Many major owner-operator-heavy carriers -- Landstar, Mercer and many others -- as well as smaller entities, have long been among the Pentagon's stable for general freight (FAK) and arms, ammunition and explosives (AA&E).
Work through an approved broker. Many brokerages across the nation also are on the list of transportation service providers for FAK approved by the Surface Deployment and Distribution Command.
Become an approved FAK carrier. Small fleets and owner-operators with their own authority for at least three consecutive years in good standing have two options for getting approved as an FAK carrier:
The approval process for carriers wishing to haul FAK for the military via this long-established program follows clear guidelines.
Obtain a Standard Carrier Alpha Code from the National Motor Freight Traffic Association, nmfta.org, 703-838-1810. You will need both U.S. DOT and MC numbers, a valid credit card and an email address for filing online. Fee: $87.
Set up an account for electronic payments with U.S. Bank Freight Payment, powered by Syncada. U.S. Bank takes a small percentage of every transaction, and a nominal setup fee is levied. Follow this link or contact custom support direct at freight.customer.support@usbank.com, 800-417-1844.
Complete SDDC's online registration via the page at this link. The registration starts with your newly acquired SCAC. Make sure pop-up blockers are off throughout the process. SDDC notes that carriers should select "GFM ITV to GTN" in the field for Electronic Data Interchange for tracing/tracking shipments.
Obtain performance bond. The required amount depends on carrier size and number of states where you'll run government freight. Owner-operators and small fleets should register with the Small Business Administration, which enables access to the small-business bonding rules. Your bond will be $25,000 to run in up to three states, $50,000 for four to 10, and $100,000 for 11 or more. Larger operations are required to maintain $25,000 for a single state, $50,000 for two or three states, and $100,000 for four or more. Costs will be as low as 1 percent to 3 percent of the bond amount annually for those with stellar credit, but they can run as high as 10 percent for others.
Instruct your bonding company to forward bond information by email only to this address. Subject line: Company Name and SCAC. Body: Provide the bond number, amount and effective date (and expiration date if the bond is not continuous), surety company name, agent's name, address and phone.
If you're not already carrying it, obtain at least $150,000 of cargo insurance (or for bulk fuel carriers, $25,000 worth). As with the bond, instruct the insurance company to submit the certificate of insurance to the email address in step 5.
Read more in-depth about SDDC's contracting process via this link to its welcome packet.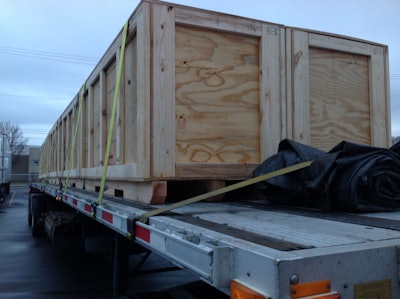 Parallel subcontracting program
Since 2007, when the original Defense Transportation Coordination Initiative was launched with the goal of outsourcing management of some DOD general freight to save costs to the U.S. government. this parallel program, now called the Defense Freight Transportation Services (DTFS) contract, has put a third party in place of the U.S. government to function as the shipper on a substantial portion of domestic FAK shipments.
The Crowley company is the contract holder, as of 2023. Insurance requirements are as follows
Cargo: $150,000 for freight 15,000 lbs. and greater, $50K under 15,000 lbs.
**Primary liability: $1 million
**Worker's comp: $1 million

Read more about the DTFS via this pdf stipulating requirements or contact Crowley via their website.
The path to arms, ammunition and explosives
As in general military freight, owner-operators who are part of a team operation can get into AA&E hauling without registering as a carrier by leasing to a carrier approved for AA&E. The drivers have to pass a Defense Security Service background check.
For independent owner-operators or small fleets to become AA&E-approved carriers, they must:
**Complete an incident-free year as an approved carrier in general military freight.
**Use team drivers cleared by DSS on all AA&E loads.
**Carry $5 million in liability insurance.
Overdrive's most-recent, 2020 feature story centered on the AA&E niche delves into plenty in the way of specifics. Access that here.
[Related: High-security munitions hauling: Bigger investment at start-up can mean rich rewards long-term]