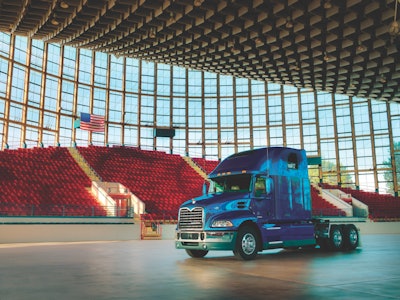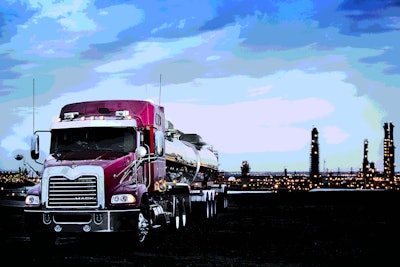 In a push to increase its sales in over-the-road and long-haul applications, Mack Trucks will begin a rebranding effort at the ConExpo construction industry show in March in Las Vegas, said the company's new sales and marketing president Stephen Roy at a roundtable discussion last week.
The company wants to be above 10 percent marketshare in 2014, a number it wants to push "much higher" for upcoming years, Roy said. "The timing is good for a major push into the highway segment of the business," Roy said. "We need for the entire Mack network to understand that we have the products today that will allow us to compete there. We have certain dealers in areas of the country that enjoy great success in the on-highway market. And we'll be working hard with our other dealers to help them enter those markets effectively."
Roy said that since 2010, Mack has spent $300 million in building its dealer network and growing technician force by 50 percent.
He also said the company's relationship with owner Volvo is vital in boosting its research and development and for economies of scale. However, the two truck offerings will remain distinct, he said. "We have unique differences between our brands today," Roy said. "And there will be very distinct differences from the Volvo brand at Mack in the future."
Mack too is ahead of schedule in meeting the 2014 greenhouse gas emissions regulations, and upcoming waves of regulations announced last week by President Barack Obama shouldn't add any increased pressure on Mack in terms of current technological efforts, Roy said.
"I can tell you that we are focusing already on proper vehicle spec'ing to make sure that our customers see the best MPG gains possible with the GHG regulations," he added. "We need to make certain that if we have to pass technological and development costs along to our customers that they're getting concrete benefits in return."