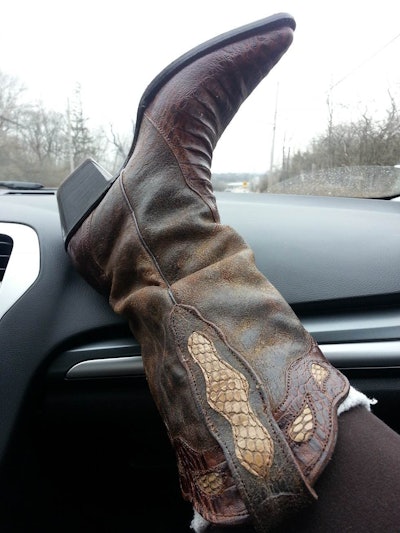 So I guess we've stumbled upon the holy grail of the self-dispatch world by finding an agent really close to home who not only has five loads a day leaving from — they have as many returning to a factory less than 15 minutes from the house. They love the hell out of a driver like George, who will get out there and run it as many times as he can within his 70, as long as they keep putting real American money on his fuel card.
Laredo is 1,443 miles away and they're paying a fair price to go there, so it's a good thing, and he's going to run it as many times as he can without pulling his beard out from boredom. It's also awesome to be able to call an hour out from the drop and have them start getting your paperwork ready for your hook to bring you home. This is gravy trucking, and he'll sop it up as long as it's there and viable.
The downside is having to make the same trip, over and over again. Most people I know in the industry do it because it's different every day, and they get to go new places and see new things. Granted, the highway is always changing, but the scenery is the same and it gets old quick when you have to pass it twice a week on a long haul. There are distinct trade-offs in self-dispatch. The security of a regular thing is awesome, but it's not the adventure of pinging yourself around the country, so like I said, he'll do it as long as he can without losing his mind. Or killing me.
I stayed home this trip, and it's the first time we've been apart in a very long time. When we go from being four feet away from each other 24/7 to being thousands of miles away from one another, adjustment is necessary. Re-adjusting to having to actually verbalize everything is sometimes a little difficult to get back in the swing of.
When I'm sitting beside him in the truck and I spend money out of the bank account, he knows immediately, because I've asked him for his bank card number, because he can remember his by heart and I'm too lazy to get mine out of my wallet. It's a little different when he's on the road and I'm home.
Let me preface this part of the story by saying I'm not very eBay savvy. I've never been entirely comfortable with it, even though George has gotten a lot of cool, weird things for me from eBay. He bought me a piece of pre-Columbian pottery from a Santa Barbara, Calif., museum auction — it has crazy little lizard people on the handles that I adore. He gets truck stuff on eBay, too, but I don't mess with it much.
I happened to be trolling the internet for cowboy boots with skulls on them and found an eBay listing I just had to read more about — it was a $900 pair of boots, and in order to read the specifics about them, you needed to sign in. George gave me his password just so I could read what in the hell constituted a $900 pair of boots, and I was off into the land of la la and lots of boooooots. Holy crap. I lost nine hours looking at boots on eBay.
I kept coming to this pair of custom boots from Mexico that were advertised to have snakeskin inlay. The lady selling them said she bought them on a cruise and didn't get the international size right – she needed a nine and they made her an eight. She couldn't wear them and had them up for $29.00 and no one had bid on them. I popped in a minimum bid of $30 and forgot about it, figuring there was no way in hell someone wasn't going to outbid me for a pair of custom Mexican, snakeskin inlay boots.
Two days later, George and I were discussing the bank account.
"Hey, what do you know about this eBay charge for $45 that happened right after you got my password so you could look at a pair of $900 boots, but definitely not bid on anything?"
"Holy crap, did I win the boots?"
"No. You did not 'win' the boots."
"Then why did they charge us anything? I thought I put the cap at $30? I shouldn't have won if the bidding was higher."
"OK, let's discuss some terms here. First, when you bid money on something and are the highest bidder, you do not 'win' the item. 'Winning' intones a prize and you didn't win a prize. You won the right to pay for something. Second, there's this thing called 'shipping' and you really have to look at how much it is before you order anything. You got lucky this time."
"Yaaaay!! I won! I won! Those boots are badass! Ha ha!! I won!"
"Are you hearing me?"
"Yes I hear you. I won't do it again. I really didn't think those boots would go for $29. Ha ha! That's cool as hell – what's the password again, so I can look at them and make sure they're the ones I think they are."
"Are you serious?"
"As a heart attack."
"Don't try to win anything."
"I will remain the loser I have apparently become by winning."
"Don't be a smart ass, you got the boots."
"Yay!! I won!!"