The Federal Motor Carrier Safety Administration's second of three listening sessions dedicated to developing a knowledge test of for motor carrier, broker and freight-forwarder New Entrants got under way this morning in Louisville, Ky., at the Mid-America Trucking Show. Much of the commentary reflected prior Overdrive reporting on the subject, though some new ideas were aired. The New Entrant test FMCSA is crafting would put yet another step in the process of getting your own authority to run independently of another motor carrier.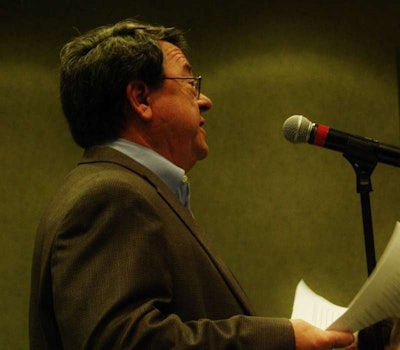 Owner-operator Michael Potwin expressed approval for the test, saying that "yes, we do need that. But we need testing so the little guy can get it" and urging the agency to keep the process simple. In such thoughts he echoed David Owen of the National Association of Small Trucking Companies, who offered some specific suggestions relative not only to the test but to how it could be administered. "One of our main considerations, and something that gets overlooked," he said, is that "full-truckload long-haul carriers are all small-town rural-based people."
FMCSA might make it easy on such constituencies by partnering with state and local DMVs and license-testing sites to administer the test.
Two, Owen said, while he's "big on keeping the costs down — don't get it so fancy that it costs a lot of money – you could fund this by adding a fee to the applicant. When he applies for his authority, that fee could go directly to the testing site." He suggest $100, potentially, though he wasn't firm on that number and urged FMCSA to research hard costs.
Third: Business education could be facilitated not as a matter of the test but as structured follow-on engagement, likewise via structured tutorials on the FMCSA website that tie questions to applicable regulations.
To one extent or another, as was the case at the first New Entrant Listening Session, most commenters were in agreement that business best practices should not be a part of the questions that were required to pass — or fail, as it were — the test. Tom Weakley of the OOIDA Foundation, however, favored FMCSA making business best practices an official part of the testing — "a subsection of the test that includes an educational component," he said — but one that didn't contribute, necessarily, to test-takers' pass/fail outcome.
Weakley cited the Foundation's work in its seminar and webinar series, which focuses on basic business practices as well as safety regulations. "We don't think it should just be limited to FMCSA regs," he said of the New Entrant knowledge test. "Best practices need to be considered – the more successful a person is, the less stress on that person and the safer that person is going to be."
Online testing, Weakley added, combined with a robust system for verification of the identity of the test-taker, should be considered as an option.
Commenter Dale Livengood felt the agency should develop different tests and potential educational curricula for different applications, citing his work with landscape and other companies in the 10,001-26,000-lb. category who, when they attend a social function and are asked what they do for a living, don't answer that they work in transportation. "They say, 'Well, I'm a landscaper."
In different applications, he added, "the knowledge that they need is different."
The New Entrant Listening Session is ongoing through 3:30 p.m. EST in room C104 in the South Wing of at the Mid-America Trucking Show today. The next listening session will be conducted at the CVSA meeting April 7.